Phil Hellmuth face all-in 116.000$ in pot de 10.000$ la Poker After Dark [VIDEO]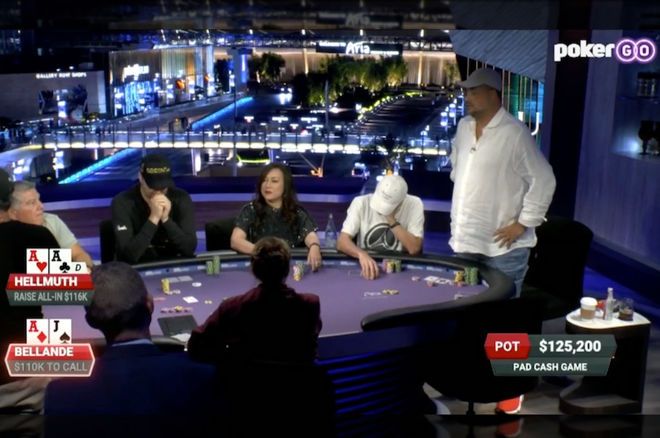 Poker After Dark este in mod constant locul poturilor mari, si prima noapte de joc sub genericul "Under the Gun" difuzata marti pe PokerGO nu a facut exceptie.
Jocul de 100$/200$ cu ante de 200$ din big blind nu a fost suficient pentru participanti. Ei au adaugat un straddle de 400$ si, in penultima mana a partidei Phil Hellmuth a primit asi pe straddle-ul lui Jean-Robert Bellande.
Randall Emmett a marit la 1.200$ ca sa produca actiune, cu clasicul


. S-a foldat pana la "Obraznicatura Pokerului" care a aplicat vechea tehnica de flat-call cu


din buton. Jennifer Tilly a mers si ea cu

din small blind si Eli Elezra a foldat big blindul. Bellande a filat

in pozitia de straddle si a ales sa mai filtreze din oponenti cu un re-raise la 6.000$.
Emmet a plecat din pot si aici mana devine interesanta. Hellmuth a decis sa se puna all-in cu intregul sau stack in valoare de 116.000$! In potul de 10.000$, el avea pusi 1.200$ si allin-ul sau a fost de 11 ori marimea potului.
Tilly a foldat si Bellande a inceput imediat sa incerce sa gaseasca motive de call. A spus ca se asteapta sa-l vada pe Hellmuth aratand un zece-high dupa ce ar fi scapat cu bine din acest bluff si l-a intrebat: "De ce ai vrea sa ma pui pe jar cu doar o mana ramasa de jucat in seara asta?"
Buna intuitie, bun rationament, dar din nefericire pentru Bellande, el nu si-a pus banii acolo unde si-a pus gura.
Dupa vreo sapte minute de gandire, a decis sa puna 110.000$ in pot pentru a castiga cei 125.000$ de pe masa.
Dupa ce au discutat despre cumpararea unei asigurari, s-a dat boardul. Iata:
Pocket aces for @Phil_Hellmuth and a big decision for @BrokeLivingJRB! Watch how tonight's #PokerAfterDark session… https://t.co/DyTd0IFCw3

— PokerGO (@PokerGO)
Un all-in si un call la fel de neconventionale. Probabil ca putem pune aceste doua decizii pe seama istoricului dintre cei doi veterani, chiar daca vazuta la rece, de la noi de-acasa, faza este departe de a semana cu analizele de maini din filmele instructionale.
Inutil de precizat, Hellmuth a incheiat ziua pe plus masiv si a incheiat abia asteptand a doua si ultima runda a seriei PAD Under The Gun:
Here we go...Yesterday on @PokerGo I ran $10,000 into $213,100!! Sweet day! Today, I'm buying in $100,000. Would… https://t.co/bMQqZFsxHA

— phil_hellmuth (@phil_hellmuth)
---
Ramaneti alaturi de noi pentru a afla primii cele mai bune informatii, strategii si promotii din poker facandu-va cont pe Pokernews Romania sau direct de pe Facebook! Urmariti-ne pe iOS, Android sau iPad.
---