Seiver Doubles for 1.5 Million Over Bussmann
Nivel 18 : 4,000/8,000, 1,000 ante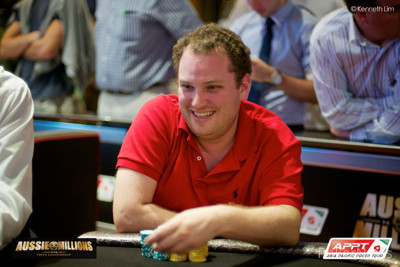 Jason Mercier began the action with an opening raise to 16,000 from early position. Scott Seiver was next to act, and flat-called before action folded to Florian Bussmann in the big blind. Bussmann reraised and made it 59,000 to go. Mercier folded to get out of the way, and it was a good thing he did because the fireworks were about to fly.
Seiver opted to reraise, and he made it 146,000. Not to be outdone, Bussmann clicked it back with a min-reraise to 233,000 — another 87,000 more to Seiver. Seiver then moved all in for a total shove of 736,000. Bussmann called, and the cards were on their backs.
Seiver tabled the


and had Bussmann's


in bad shape. The flop, turn, and river ran out





to keep Seiver's aces in front and give him the massive pot. Seiver moved to 1.5 million in chips, which was good enough to take the chip lead, while Bussmann was knocked all the way back to a little over 300,000.
Chiplead. 3.5x avg
Follow @scott_seiver