Dietrich Hits Runner-Runner to Double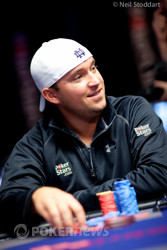 Andoni Larrabe Sánchez shouted, "F##k, f##k, f##k!" after the river card fell to hand Michael Dietrich a double-up just before the break.
Sánchez opened to 60,000 from the button and snap called when Dietrich three-bet all-in from the small blind.
Sánchez:



Dietrich:


The flop came a beautiful looking



for Sánchez. He wasn't so happy with the

turn and river though.