No Trouble in This Double for Gurtovoy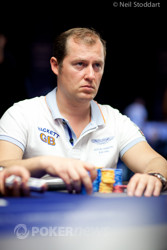 Anatoly Gurtovoy couldn't bear to watch as the board was rolled out by the dealer. He was all-in for his last 434,000 and it great shape, but it was all still to much for him.
The pot opened with a raise to 60,000 from Lucille Cailly and a three-bet from Alex Mostafavi in the small blind. Gurtovoy was in the big blind and four-bet shoved. Cailly quickly folded and Mostafavi called just as quick.
Mostafavi:



Gurtovoy:


The board ran




.
Gurtovoy's friend on the rail told him on the turn that it was safe to look. Mostafavi tapped the table and paid his dues.