Main Event
Ziua 4 terminat
Nivel 30 : 50,000/100,000, 10,000 ante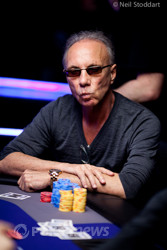 Today was a very strange day of poker. If you were a marquee player, you had an 80% chance of busting. If you got moved to the TV table your chances of making it through the day probably decreased to 15%. On the flip side of that, the more you procrastinated or slow-rolled the better your chances of making the final table became.
Then there was problem of getting from nine players to our final table of eight. That took the best part of five hours (including a one-hour dinner break). All that playing time means that we are have a very shallow final table tomorrow with average stack at just under 25 big blinds.
The chip leader coming into tomorrow is 64-year old Bernard Guigon with 4,900,000 chips, ahead of Rodrigo Caprioli (2,945,000) in second, and Lucille Cailly in third (2,865,000). Here's how the full table will line up tomorrow:
| Table | Seat | Name | Chips |
| --- | --- | --- | --- |
| Final Table | 1 | Rodrigo Caprioli | 2,945,000 |
| | 2 | Bernard Guigon | 4,900,000 |
| | 3 | Michael Dietrich | 1,550,000 |
| | 4 | Sergio Castelluccio | 1,410,000 |
| | 5 | Moshin Charania | 2,215,000 |
| | 6 | Daniel Gomez | 2,665,000 |
| | 7 | Clayton Mozdzen | 1,430,000 |
| | 8 | Lucille Cailly | 2,865,000 |
Alex Mostafavi busted in ninth when his

could overcome Guigon's pocket jacks. As Mostafavi was led away each of the other players embraced each other in a tired but joyous way.
If you followed all the coverage at EPT Berlin then you'll know things were a little different there, and they will be here as well. EPT Live will broadcasting along with our coverage. As the broadcast will have the players' hole cards face-up, all coverage (written and visual) will be live from 2.30pm CET time, a one hour delay from the live action.
Nivel 30 : 50,000/100,000, 10,000 ante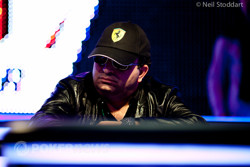 Working with a 9BB stack, Alex Mostafavi raised to 250,000 in mid-position and Bernard Guigon just decided to call in the big blind.
Flop:



Guigon tapped the felt and Mostafavi quickly moved all-in. The players, media and fans on the rail all jostled for position as they sensed an instant call from the chip leader. But Guigon likes to take his time and take his time he did.
After a few minutes of dead unease, the silence was permeated with the words, "I call," and when he turned over his hand Mostafavi tapped the table and everyone knew he was in trouble.
The turn was kind to Mostafavi as it gave him some more outs

, but he desperately needed the ace or seven to keep his very slim EPT Grand Final hopes alive.
River:

That's it! We have our final eight and Alex Mostafavi is not going to sitting amongst them when the action starts at 13:30 (CET) tomorrow. Bernard Guigon is going to be the chip leader and we will bring you all of those exact counts as soon as the furore dies down.
Nivel 30 : 50,000/100,000, 10,000 ante
Sitting behind an 11BB stack a tired looking Alex Mostafavi raised to 200,000 and folded to a Clayton Mozdzen shove.
Nivel 30 : 50,000/100,000, 10,000 ante
Sergio Castelluccio moved all-in and everybody folded.
Nivel 30 : 50,000/100,000, 10,000 ante
Lucille Cailly raised to 200,000 in early position and Alex Mostafavi called in the big blind. The flop was



and Mostafavi did what he so often did and checked in the dark. So presented with the betting lead Cailly made it 250,000, but Mostafavi clicked it back to 500,000.
"I am all-in," said Cailly.
Mostafavi went through his usual routine at this point. He re-stacked his chips, shook his head, pondered for five minutes, tapped the felt and folded


for an open ended straight draw on a monotone board and the crowd went berserk!
Jucător
Fise
Progres

Bernard Guigon

3,465,000

-570,000

Rodrigo Caprioli

2,945,000

905,000

Daniel Gomez

2,905,000

15,000

Lucille Cailly

2,265,000

149,000

Mohsin Charania

2,215,000

20,000

Alex Mostafavi

1,945,000

260,000

Michael Dietrich

1,550,000

-410,000

Sergio Castelluccio

1,405,000

5,000

Clayton Mozdzen

1,230,000

-270,000
Nivel: 30
Blinduri: 50,000/100,000
Ante: 10,000
Nivel 29 : 40,000/80,000, 10,000 ante
The players are on a 15-minute break