The EPT Grand Final: Final Table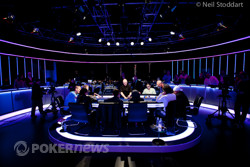 The end of Season 8 is almost upon us, but what a way to go out in style. We are of course at the PokerStars and Monte-Carlo® Casino European Poker Tour Grand Final and we have two more events to go. The €25,000 High Roller attracted a mind boggling 133 entries thus creating our third €1 million prize at just this event alone. That event pulls into Day 2 today and you can follow all of the action here on PokerNews.
But the star of the show is the EPT Grand Final itself. We are down to the final eight players and we expect it to be a whizz, bang whallop of a final. Yesterday's play lasted so long that of the returning cast seven players have fewer than 30BB. For the second time this season we have a player in his sixties going for an EPT title. Bernard Guigon first blipped on the EPT radar when he was the unfortunate bubble boy at Season 7 EPT Deauville. Guigon starts as the runaway chip leader with 4,900,000.
Also in the line up is our first ever Grand Final lady, Lucille Cailly. If yesterday is anything to go by then we expect Cailly to have the fervent support on the rail with the French support being the most vocal.
The action starts at 13:30 (CET) but we will be bringing you the action with a 60-minute delay. The delayed action, complete with hole cards and commentary, can be found at Pokerstars.tv (EPTlive) or alternatively you can follow the live updates right here with the usual team.
In the meantime here is the table draw, chip counts and player profiles.
| Table | Seat | Name | Chips |
| --- | --- | --- | --- |
| Final Table | 1 | Rodrigo Caprioli | 2,945,000 (29BB) |
| | 2 | Bernard Guigon | 4,900,000 (49BB) |
| | 3 | Michael Dietrich | 1,550,000 (15BB) |
| | 4 | Sergio Castellucci | 1,410,000 (14BB) |
| | 5 | Moshin Charania | 2,215,000 (22BB) |
| | 6 | Daniel Gomez | 2,665,000 (26BB) |
| | 7 | Clayton Mozdzen | 1,430,000 (14BB) |
| | 8 | Lucille Cailly | 2,865,000 (28BB) |