Negreanu Plays Just One Hand, Behbehani Slowrolls
Nivel 5 : 200/400, 50 ante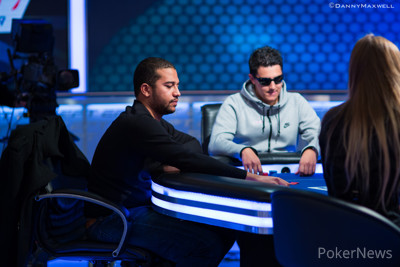 Team PokerStars Pro Daniel Negreanu sat down right after the break and was knocked out in the first hand of play. Salman Behbehani raised from early position to 800 and Negreanu announced he was going to raise.
"I'm raising," Negreanu added while he was thinking about how much to put in.
Eventually Negreanu made it 2,100 and the action was folded to Philipp Gruissem on the button.
"Come on Philipp," Negreanu said with a smile as the German went over his options.
After a while Gruissem folded, laughed and said, "There's no more money in my account," as the entire table started laughing.
Behbehani made the call when it was folded to him and the flop brought out


. Behbehani checked to Negreanu who bet 3,100 and his opponent wanted to call quickly but accidentally put in too many chips. Behbehani was forced to make at least a min raise and put in 6,200.
Negreanu called.
On the turn the

hit and Behbehani quickly tossed in 10,000. Negreanu did not hesitate and made the call after which the river completed the board with the

. Behbehani threw a large pile of blue chips across the line to put Negreanu all in.
"Well, I said I was going to do a rebuy," Negreanu said as he put in the call.
"Deuces," Behbehani said and turned over


for the second nut flush.
Negreanu quickly turned over his


and noticed a second later he did not have the best hand.
"You slow rolled me?" Negreanu said as he did not appreciate Behbehani's action.
"Yeah I did," Behbehani said while he apologized and seemed happy at the same time. Negreanu wasn't pleased and left the room to do a rebuy. Some of the other players at the table also expressed that they didn't like Behbehani's behavior, but he smiled and said it was "pretty fun."