Hellmuth No Longer High Rolling
Nivel 14 : 2,000/4,000, 500 ante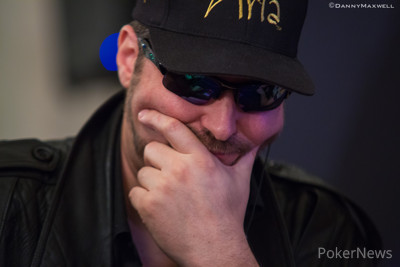 Phil Hellmuth has been known to let his stack dwindle to critical levels, and this event proved no different. The "Poker Brat" registered at the start of Day 2 and received a starting stack of 50,000, but it only seemed to go down.
In his final hand, Hellmuth was down to 7,800 and had to put 4,000 of it out for the big blind and 500 to the ante. Needless to say, he called off after Frederik Jensen opened from the under-the-gun position. Jensen tabled the


and Hellmuth said that he called off without looking.
"Do you mind if I show just one?" Hellmuth asked. Jensen agreed and Hellmuth revealed just the
. The dealer then put out the


flop. Hellmuth didn't hit, but the good news was Jensen didn't improve either.
"Oh my, I'm a favorite now," Hellmuth said excitedly when the

turn put four clubs on the board. Hellmuth still didn't look at his other card and waited for the dealer to put out the river, which came the

. In dramatic fashion Hellmuth sent his card high into the air so they landed face up. There was the
of course, and the other card was the...

.
Hellmuth missed and Jensen's queen took the pot. "That was fun," Hellmuth laughed. He then shook hands with every player at the table and then took his leave from the tournament.