Lavallee and Mizzi Play a Massive Cooler Hand
Nivel 22 : 12,000/24,000, 3,000 ante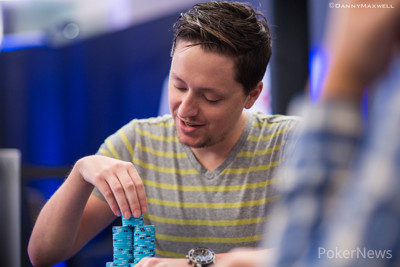 After a series of nominal pots, Sorel Mizzi and Jason Lavallee both found top three hands and played a nearly two million-chip pot.
The action folded to Mizzi, who raised to 48,000 on the button, and David "Devil Fish" Ulliott called in the small blind. Lavallee reached for chips, three-betting to 138,000, and Mizzi responded with a four-bet to 280,000. Ulliott sat back in his chair for 10 seconds before folding, and Lavallee announced that he was all in.
"Call," Mizzi said quickly.
Lavallee turned over


, prompting Mizzi to frown before showing his


.
The aces held up as the board came





, and Lavallee doubled to 1.956 million chips. Mizzi plummeted to 260,000.