Leo McClean Wins the EPT10 London Skrill Last Longer Competition
Nivel 14 : 2,000/4,000, 500 ante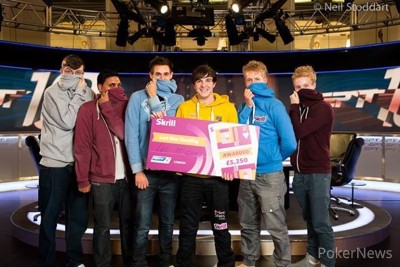 At the start of the EPT London Main Event (which you can follow live updates from by clicking here), 45 players signed up for the Skrill Last Longer competition. Yesterday, Leo McClean emerged as the winner.
For those unfamiliar with the promotion. The Skrill Last Longer competition will be held at each stop on this season's EPT, of which they're an official sponsor. The promotion is simple – players sign up for the promotion either online (preregistration is available) or at the Skrill booth (which will be present at each stop); don a Skrill patch; and then aim to be the last man or woman standing. The last player remaining will then receive the £5,250 buy-in back in their Skrill account, which is what McClean won.
While Skrill is upping the ante for Season 10 with a bigger branding initiative, this isn't their first appearance on the EPT; as a matter of fact, they were a sponsor of Season 8 and have held previous "Last Longer" promotions.
The company's website provides a bit more information on Skrill, which rebranded from Moneybookers back in 2010:
"Skrill has been moving money digitally since 2001. We offer online payment solutions for businesses and consumers, allowing them to pay and get paid globally. Over 36 million account holders already trust Skrill. Our customers can send and receive money worldwide in 200 countries and 40 currencies, securely and at low cost, without revealing their personal financial details. Your business will benefit from our worldwide payment network with over 100 payment options. Whether through a simple one-step integration or a fully-tailored payment solution. Whoever you are, however you like to pay or get paid, trust Skrill to make your online payments simpler, faster and safer."
Headquartered in London, Skrill is looking to make their presence known in the poker world with a commitment to customer satisfaction through innovation and service. Not only that, they're looking to be more than just a company by becoming a trusted and respected member of the poker community.
What's more, PokerNews and Skrill have joined forces to offer our customers a free $20. All you have to do is use your Skrill account for the first time to fund an online poker site. It's that simple.
So how does it work? Once you upload funds to your Skrill account, you can distribute them to anyone with a valid email address. In addition, Skrill is accepted as payment across most major online poker sites, meaning you can quickly and easily deposit and withdraw your funds without having to have gambling transactions littering your bank statements! What's more, Skrill offers its customers a Prepaid MasterCard that can be used in 100,000's of locations around the globe.
How do you get a free $20? Just follow these simple steps:
Upload funds to your new Skrill account or directly go to a poker room and choose Skrill to make your deposit.
Make a deposit of at least $20 onto an online poker room.
Skrill will add $20 to your Skrill account within one business day, which you can use to redeposit to a room right away.
As mentioned, scores of online poker rooms such as Full Tilt Poker, PKR, Titan Poker, bet365 and Betfair accept Skrill, so you can make your first deposit onto a major player in the online poker room.