Chouity Gets Rousso Talking To Herself
Nivel 9 : 400/800, 100 ante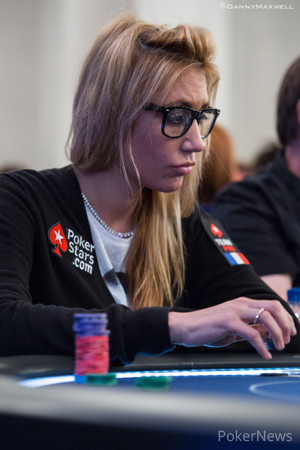 Unfortunately we missed the action before the river, but the what we witnessed was very entertaining none the less.
The board showed





when Rousso, who was seated in the big blind, faced a shove from EPT Monte Carlo winner Nicolas Chouity. Chouity was seated under the gun and put 30,700 across the line with 22,000 chips in the pot.
"They don't make it easy for me!" Rousso sighed as she directed herself towards the dealer.
"Terrible.....terrible," Rousso mumbled.
"It feels like king-queen," Rousso continued her monologue, while Chouity stared to the same spot on the table continuously.
As the staring continued the other players at the table became less and less interested in the hand, but Rousso wasn't done analyzing just yet.
"I'm only 60% sure you have king-queen and I need to be 80% sure," the former EPT Monte Carlo high roller winner said.
"I hate it!" Rousso finally cried as she pushed her cards towards the dealer.
"I'm sorry guys," she later said as the play continued, "I've made a lot of good calls in my life and I was really close to making this one as well."
Rousso did not make the call and therefore both her and Chouity's stack are very similar right now.