Just Two Skrillees Remain in the Last Longer Competition
Nivel 20 : 5,000/10,000, 1,000 ante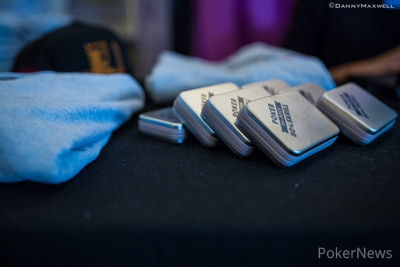 Of the 45 players that originally signed up for the Skrill Last Longer competition in the Main Event, just two remain. Who will be the Last Man Standing? Will it be Ryan Yu (Canada) or Leo McClean (UK)? Only time will tell.
For those unfamiliar with the promotion. The Skrill Last Longer competition will be held at each stop on this season's EPT, of which they're an official sponsor. The promotion is simple – players sign up for the promotion either online (preregistration is available) or at the Skrill booth (which will be present at each stop); don a Skrill patch; and then aim to be the last man or woman standing. The last player remaining will then receive the £5,250 buy-in back in their Skrill account.
While Skrill is upping the ante for Season 10 with a bigger branding initiative, this isn't their first appearance on the EPT; as a matter of fact, they were a sponsor of Season 8 and have held previous "Last Longer" promotions.
The company's website provides a bit more information on Skrill, which rebranded from Moneybookers back in 2010:
"Skrill has been moving money digitally since 2001. We offer online payment solutions for businesses and consumers, allowing them to pay and get paid globally. Over 36 million account holders already trust Skrill. Our customers can send and receive money worldwide in 200 countries and 40 currencies, securely and at low cost, without revealing their personal financial details. Your business will benefit from our worldwide payment network with over 100 payment options. Whether through a simple one-step integration or a fully-tailored payment solution. Whoever you are, however you like to pay or get paid, trust Skrill to make your online payments simpler, faster and safer."
Headquartered in London, Skrill is looking to make their presence known in the poker world with a commitment to customer satisfaction through innovation and service. Not only that, they're looking to be more than just a company by becoming a trusted and respected member of the poker community.