When Big Stacks Collide
Nivel 8 : 300/600, 75 ante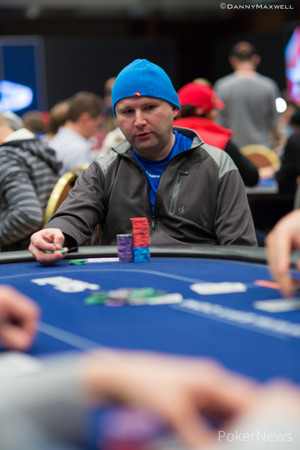 For a lot of players at this stage they are in shove or fold mode, but on a few rare tables there are two or more big stacks who are still willing to duke it out with each other.
We joined the action on the flop of


just after Ion Pavel from Romania seemed to have made a reluctant call facing a big bet from small blind Ciaran Burke, a PokerStars qualifier from Ireland. It was in the region of 5,000 and both players were sitting on stacks of over 100,000 with Pavel having slightly more. The turn card was the

. Burke took his time to digest the card and bet a healthy 8,300. Pavel started talking to his opponent, trying to get a read or send out some information before making the call.

on the river and Burke again took his time. He settled on a bet of 16,900 and now Pavel really started talking, going through all the options, asking if his opponent wanted a call. Burke responded, "You got ace, ten?" Pavel eventually settled on saying "I know I'm beat." and made the call. He was right. Burke turned over

for a full house and scooped a juicy pot.