Take Your Time
Nivel 17 : 2,500/5,000, 500 ante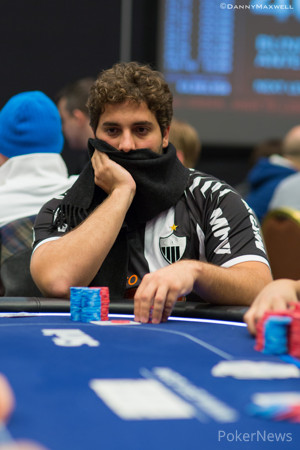 Joao Simao from Brazil opened for 11,000 and Simon Mattsson from Sweden raised to 32,500. The blinds folded and Simao asked him how much he was playing. Mattsson showed him his stack which was just under 120,000. He called and they saw a flop of


. Simao checked and called a bet of 16,000 from Mattson. This took about a minute to complete. The turn card was the

and after a few minutes we had ourselves a check / check. The river was the

and now the action slowed down a bit. Simao had his scarf pressed against his neck; Mattson had his hoodie against his, as the minutes ticked by.
Some five minutes in he asked the dealer "How much does he have?" and perhaps in an effort to speed things along the dealer reached for Mattssons', stack but another player spoke up to remind him that that wasn't allowed. The dealer told him he could look as much as he wanted but no count was required. Another minute ticked by and Simoa announced "All-in."
Mattsson went in the tank. His tournament life was on the line, Simao had taken an unorthodox line and he tried to put the pieces of the puzzle together. A few players got up and strolled around the table. Mattsson appeared tortured. Five minutes later he released his hand and the chips went the way of Simao. Tension released Simao intimated that he had it and wanted to know Mattsson's hand. "I'll tell you at the break." he said.