Action Andrew and Delightful Daniel
Nivel 2 : 75/150, 0 ante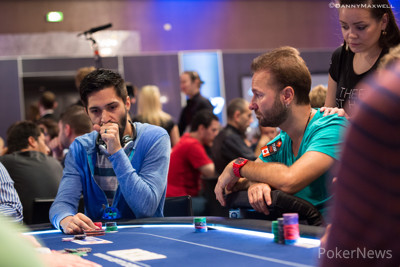 Andrew Moreno, the better half of PokerNews' very own Kristy Arnett, is seated to the direct right of Team PokerStars Pro Daniel Negreanu at a table that also includes Sofia Lovgren. Moreno has been involved a bit early, both in the action at the table and with the chatter between he and Negreanu. Topics of conversation have been poker, Choice Center, Instagram, LeBron James, cell phones, and much more.
On the first of many hands, Kresz Peter opened to 350 in the seat to the right of Moreno, before Moreno three-bet to 900. Peter called, and the flop came down



. After Peter checked, Moreno bet 1,000. Peter folded.
Several hands later, Moreno was in the big blind, Peter in the small blind, and David Breitfuss had the button. Action folded to Breitfuss, and he opened with a raise to 300. Peter called, then Moreno three-bet to 1,050. Breitfuss folded, but Peter came along to see the flop, which produced the


. Peter then check-called a bet of 850 from Moreno.
The turn was the

, and both players checked to see the

land on the river. Both checked again. Peter showed the


, but Moreno's

had the better kicker, and he won the pot.
On the very next hand, Peter raised to 300 on the button, Moreno called from the small blind, and Negreanu called from the big blind. All three players in action then checked the



flop before the

was added to the board on the turn. Moreno led with a bet of 425, Negreanu folded, but Peter called. After the

completed the board on the river, Moreno check-folded to Peter's bet of 525.
The next hand, Moreno had the button, and Negreanu proclaimed to the table that he was "going to three-bet more often than not on this hand." Action then folded to Peter in the cutoff seat, and he opened to 300. Negreanu got excited, as things were lining up for him to stay true to his word, but then Moreno got in the way with a three-bet of his own and made it 825 to go. Negreanu looked at his hand, then told the table he definitely would have three-bet if Moreno hadn't, pointing to his right. A player at the table suggested Negreanu could have four-bet after he folded, but Negreanu explained that he doesn't four-bet, or five-bet, or six-bet, and that "all those kids that used to do that are broke." The table got a good laugh.
Back to the hand, though. Peter made the call to see the



flop. Both checked, and the turn was the

. Both checked again, then the river was the

. Peter led for 1,100, and Moreno made the call.
Peter had rivered a flush with the


, and Moreno mucked his hand.
"Oh man! You would've smashed me there! I had king-eight!" exclaimed Negreanu.