The Poker Industry Person of the Year Is...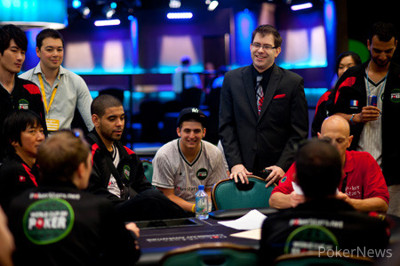 Winner: Neil Johnson - PokerStars Live Poker Specialist (England)
Some would say, perhaps harshly, that this is one of the awards that isn't decided by variance and hard work but just sheer hard work. Neil Johnson, PokerStars Live Poker specialist can attest to that. He got his start as a poker dealer and was all set to hang up his cushion and take over as an online tournament room manger for Paradise Poker. Then Black Friday hit.
Perhaps that was a blessing as he's now PokerStars Live Poker Specialist and as anyone who has ever attended an EPT will know works incredibly hard. But it's not just at events where he puts in the hard work, from answering queries on poker forums about the events to working out the schedules at the events and liaising with every department to make sure the event runs smoothly. In one of the longer acceptance speeches of the night Johnson said: "It was very nice to be even nominated, I say thank you to my family who have no idea what I do. Special thank yous to Peter Fisher, who was one of the first players I ever dealt to and introduced me to Jan Fisher and Linda Johnson who started this whole roller coaster."
Nominated: Poker Industry Person of the year : Marc Convey - Poker journalist and broadcaster (England), Lee Davy - Poker journalist and podcast personality, (England), and Edgar Stuchly - EPT President and Director of Pokerstars Live Event Europe (Austria).
Past winners: Simon Trumper (2012), Warren Lush (2011), Gerard Serra Retamero (2010), Edgar Stuchly (2009), Jonathan Raab (2008), Madeleine Harper (2007), Roy Houghton (2006), Sabine Hazoume (2005), Andres Burget (2004), Teresa Nousiainen (2003), Adele Brujin (2002), Thomas Kresmer (2001).