€10,300 High Roller
Zilele: 1
€10,300 High Roller
Ziua 1 început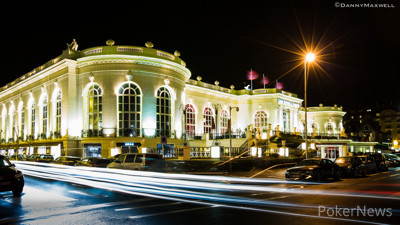 The main event may be getting down to the nitty gritty end of the tournament but for the European Poker Tour's high stakes players, it's time for the high-roller event.
Last year Vojtech Ruzicka beat Timothy Reilly heads-up for a first prize worth €313,000 on a final table that also included Martin Jacobson, Bryn Kenney, Steve Silverman and Team PokerStars Pro Jonathan Duhamel.
The high-roller satellite last night drew 116 runners and made 16 seats. EPT winners David Vamplew, Anton Wigg and Dominik Panka were among those whose who qualified for today's tournament. Other players expected to play include Steve O'Dwyer and Toby Lewis, the latter having won Best Online Player at the European Poker Awards last night.
The tournament begins at 1pm local time and we're expecting to play between eight and ten one-hour levels today. It's also a single rebuy tournament so expect a bit more gamble in those early levels from some of the wealthier players!
Nivel: 1
Blinduri: 100/200
Ante: 25
Nivel 1 : 100/200, 25 ante
We're under way at the High Roller and the tables are slowly filling up with 28 players so far. Play begins when there are three players at the table and there are a few tables where two players are kicking their heels.

About to start the highroller here at #EPTDeauville, field looks decent but kind of small, 50k at 200bb, vamo
Follow @Firaldo87poker
Nivel 1 : 100/200, 25 ante
Looks like David Vamplew is enjoying his time in Deauville and he is hoping for more success in this high roller tournament.
Been grinding #eptdeauville hard, got 2 turbo cashes and main+hr satellite wins. High roller today
Follow @davidv1213
The small blind limped and Vamplew from the big blind made it 800 to go. They saw a flop of



and when it was checked to Vamplew he bet 1,000 and took it down.
Nivel 1 : 100/200, 25 ante
Jucător
Fise
Progres

Glen Cymbaluk

50,000

50,000

David Vamplew

50,000

50,000

Joni Jouhkimainen

50,000

50,000

Vitaly Lunkin

50,000

50,000

Toby Lewis

50,000

50,000

Jon Spinks

50,000

50,000

Ludovic Lacay

50,000

50,000

Younes Hammouchi

50,000

50,000

Dominik Panka

50,000

50,000

Guy Goossens

50,000

50,000

Adrian Mateos Diaz

50,000

50,000

Mikolaj Zawadzki

50,000

50,000

Yann Dion

50,000

50,000

Anton Wigg

50,000

50,000

Phu Truong

50,000

50,000

Niall Farrell

50,000

50,000

Ayman Zbib

50,000

50,000

Ihar Soika

50,000

50,000

Jorma Nuutinen

50,000

50,000

Marcelo Fonseca

50,000

50,000

Pascal Vos

50,000

50,000

Martin Staszko

50,000

50,000

Alexander Dovzhenko

50,000

50,000

Abdulaziz Abdulaziz

50,000

50,000

David Boyaciyan

50,000

50,000
Nivel 1 : 100/200, 25 ante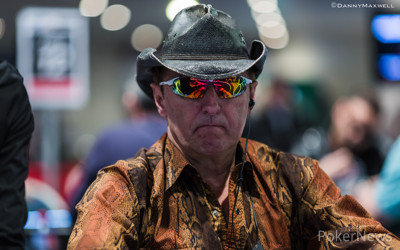 With so many young guns sporting hoodies, sunglasses and i-pads these days it's good to see one high roller representing the old Texas road gambler look. Canadian Glen Cymbaluk is looking the part with his cowboy hat perched atop his head. OK, he's got the mirrored shades on as well, let's see if the i-pad comes out later.
Nivel 1 : 100/200, 25 ante
An early piece of bad luck has proved very costly for Niall Farrell. When we joined the action, it looked as though Farrell had called a raise on the



flop before checking the

turn against Aleksandr Denisov.
Denisov bet 16,500 and Farrell made the call to see the

on the river where the Scot checked again. Denisov bet 22,300 and Farrell thought for about twenty seconds before calling.
Denisov showed


for two pair and Farrell could only shake his head and manage a wry smile. The latter was left with just 800 chips and busted shortly afterwards.

So, out. More shocked than tilted. Hand was absurd (will tweet) so can't feel bad. Gonna jump in 1k #heart #beer
Follow @Firaldo87poker
Nivel 2 : 100/200, 25 ante
The button opened for 500 and called a three-bet from Govert Metaal in the small blind. The two players saw a flop of


. Metaal led out for 1,050 from seat 1 and then called a raise to 3,500 from the button in seat eight. With the dealer between them there was no chance of a stare down so they would have to rely on the board and bet sizing. The turn card was the

and when Metaal checked he faced a rainbow bet, that is a bet that includes one of every colour, which in this case was 6,625. Metaal pondered this turn of event but made the call. The river was the

completing any flush draws and again Metaal checked. It was double rainbow time as another bet one of each chip for 6,625 came his way. It took a long time for Metaal to make the call, but call he did. He could only give the briefest of chuckles and muck his cards when his opponent turned over


.
Nivel 1 : 100/200, 25 ante
More players have arrived including Team PokerStars Pros Bertrand "ElkY" Grospellier and Jake Cody.
The field includes many of the GPI award winners from last night including: Adrian Mateos Diaz (Rookie of the Year/Spanish Player of the Year), Govert Metaal (Dutch Player of the Year), Stephen Chidwick (UK Player of the Year), Toby Lewis (Online Player of the Year) and Joni Jouhkimainen (Finnish Player of the Year).
Jucător
Fise
Progres

Jake Cody

50,000

50,000

Bertrand "ElkY" Grospellier

50,000

50,000

Michael Tureniec

50,000

50,000

Stephen Chidwick

50,000

50,000

Fabrice Soulier

50,000

50,000