Yu Flopped It

Nivel 12 : 800/1,600, 200 ante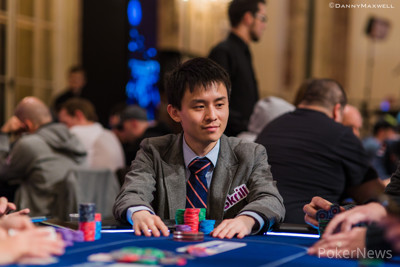 The decision was on Austrian player Josip Simunic when we arrived at his table. In the middle was a pile of chips already and all five community cards:




.
Ben Yu had 23,300 in front of him and that was asked of Simunic at this point. One helpful tablemate of the two told us that there had been a bet by Simunic and the 23,300 in front of Yu represented his all in raise.
Yu didn't move a muscle as Simunic thought about his decision. After some heavy thinking he splashed in the 23,300 asked of him after which Yu showed his

quick as lightning. The river didn't help him at all but he got the full double up from his opponent nonetheless.
As this was an all in and a call Simunic's hand was tabled for all to see:


. Yu received the pot from the dealer and started counting his chips (and blessings maybe). We counted along with him: 103,200.
Jucător
Fise
Progres

Ben Yu

103,200

43,200