Are You Using the Skrill MasterCard Yet?
Nivel 2 : 75/150, 0 ante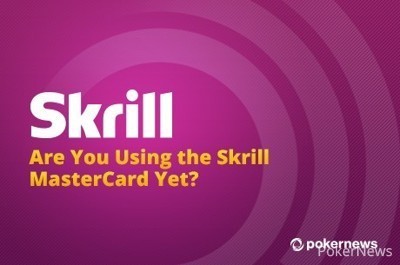 Skrill is the premier online payment solution for millions of poker players worldwide and once you become a member it is easy to see why. By using Skrill to process your online transactions you can deposit to your favourite online gambling sites – and scores of non-gambling sites – rapidly and securely. You can also send money to friends and relatives instantly.
One of the most popular withdrawal methods Skrill offers is the Skrill MasterCard, which can now be used in over 35 million shops and restaurants around the world and in millions of ATMs across the globe. The Skrill MasterCard gives you access to your Skrill balance, in real-time, whenever you need it, which makes it the must-have accessory for any poker player keen on using his online funds on-the-go. The MasterCard is the staple part of any poker player's diet.
Skrill is now offering its Prepaid MasterCard to Skrill VIPs for free, giving you no excuse not to get your hands on one! Skrill VIPs can use the MasterCard to spend between €3,000 and €5,000 per day in shops, restaurants and online merchants, depending on their VIP status. Card users also can withdraw up to €2,500 in cash per day.
What's more, Skrill VIPs can now use their Skrill Prepaid MasterCard anywhere in the world, with no limitations on country restrictions. Previously, the MasterCard could only be requested if a user is in the European Union, but Skrill has now expanded its borders and that is great news for you.
Becoming a Skrill VIP is a simple process and one that could see you reaping in the rewards quicker than ever before if you apply for a Skrill VIP account via PokerNews. Send at least €2,000 to merchants in 30 days and not only will you become a Skrill VIP, but you will also receive 1% cashback on selected transactions!
Signing up for a Skrill account via PokerNews also gives you the opportunity to claim a free $20, too. Find out more about that particular fantastic offer in this article.
If you do not currently have a Skrill account, now is the time to rectify that situation. Imagine how amazing it would be to have your poker bankroll funds at your fingertips as the holiday season rapidly approaches, or to travel to foreign events and not be restricted by how much money can be taken. It is possible thanks to the Skrill Prepaid MasterCard, a card you can get your hands on the click of a button. Do so today!