Lodden Thinks Is Back; Ausmus Drops An "Absurd" Number
Nivel 5 : 400/800, 100 ante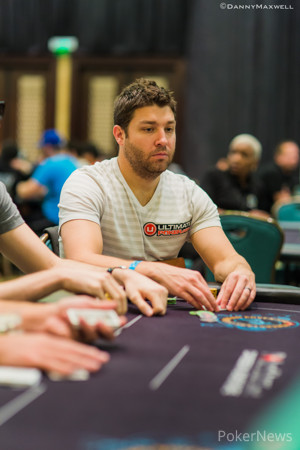 Antonio Esfandiari always likes to have a good time when he's playing poker. It's in his blood, and he's got his table playing the brilliant gambling game of "Lodden Thinks."
For this installment of the game, former World Series of Poker November Niner Jeremy Ausmus played Lodden. Before prompting the question to Ausmus for him to lock in a number, Esfandiari and his table requested Jason Mercier, who was sitting at an adjacent table, inform them what his absolute favorite food in the world was. Mercier told them it was chicken parmesan. The question prompted to Ausmus was then, "How much would it cost for Jason Mercier to NOT eat chicken parmesan for the rest of his life?"
Ausmus took some time and locked in a number. After the bidding war heated up a bit, Bryn Kenney bought the under on $47,000. Ausmus then released his number and it was massively different than what the table was bidding on... $5,000,000!
"What! $5,000,000?!?!?" screamed Esfandiari, nearly falling out of his chair. "That's an absurd number! Just absurd!"
Everyone began ribbing Ausmus a little bit, and then the table began raising questions as to what the real number was. This is when Esfandiari bet Dan Shak $500 that the real number Mercier would accept would be $100,000 or lower. Shak had anything higher than $100,000.
Mercier was asked what his real number was, and the table made sure to tell him to think and be truthful about it. Mercier's answer? $225,000.
"Yes! Yes!" yelled Shak, briefly popping up in his chair with excitement. "Bang!"
Esfandiari couldn't believe it, and he even said, "I was willing to lose everything on that one."
"$225,000 and I'd accept it right now," said Mercier with a smile.
"Well, you just made me $500," commented Shak.
"For $5,000,000 I'd try and not eat any food for the rest of my life!" Mercier joked with a big laugh.