$10,000,000 Guarantee Main Event
Zilele: 3
$10,000,000 Guarantee Main Event
Ziua 3 început
| Table | Seat | Player | Chips |
| --- | --- | --- | --- |
| 1 | 1 | Brian Lemke | 70,000 |
| 1 | 2 | Adrian Bussman | 263,100 |
| 1 | 3 | Leonardo Emperador | 92,900 |
| 1 | 4 | Eduardo Cruz | 162,300 |
| 1 | 5 | Cory Joseph Winchar | 121,100 |
| 1 | 6 | Joao Ribeiro | 47,800 |
| 1 | 7 | Dmitriy Prusov | 137,400 |
| 1 | 8 | Vladimir Schemelev | 313,500 |
| | | | |
| 2 | 1 | Dennis Brunsberg | 146,300 |
| 2 | 2 | Kevin Tohivsky | 37,900 |
| 2 | 3 | Douglas Ferreira Souza | 128,900 |
| 2 | 4 | Isabel Carvalho | 57,400 |
| 2 | 5 | Daniel Luis Lapegrini | 32,500 |
| 2 | 6 | James Calderaro | 51,100 |
| 2 | 7 | Shayam Srinivasan | 276,000 |
| 2 | 8 | Jennifer Shahade | 256,400 |
| | | | |
| 3 | 1 | Sean Winter | 140,500 |
| 3 | 2 | Jamie Armstrong | 80,500 |
| 3 | 3 | Jeremy Wray | 122,000 |
| 3 | 4 | Dan Smith | 127,800 |
| 3 | 5 | Raphael Kroll | 41,900 |
| 3 | 6 | Matt Stout | 257,900 |
| 3 | 7 | Rens Feenstra | 123,300 |
| 3 | 8 | Ben Warrington | 116,400 |
| | | | |
| 4 | 1 | Pascal Vos | 92,900 |
| 4 | 2 | Yong Wang | 206,000 |
| 4 | 3 | Jaime Eli Kaplan | 44,300 |
| 4 | 4 | Leon Campbell | 134,600 |
| 4 | 5 | Madis Muur | 134,900 |
| 4 | 6 | Osman Mustanoglu | 62,500 |
| 4 | 7 | Eduardo Bernal Sanchez | 42,500 |
| 4 | 8 | Michael MacHugh | 51,900 |
| | | | |
| 5 | 1 | Trond-Arve Nikolaisen | 108,900 |
| 5 | 2 | Chris Klodnicki | 154,500 |
| 5 | 3 | Dario Minieri | 168,500 |
| 5 | 4 | Shai Zurr | 91,800 |
| 5 | 5 | Marc-Andre Ladouceur | 208,700 |
| 5 | 6 | Gregory Merson | 188,800 |
| 5 | 7 | Anthony Fiumidinisi | 49,300 |
| 5 | 8 | Shankar Pillai | 198,400 |
| | | | |
| 6 | 1 | Maria Ho | 300,800 |
| 6 | 2 | Dominik Panka | 171,900 |
| 6 | 3 | Isaac Baron | 47,000 |
| 6 | 4 | Maxim Panyak | 44,900 |
| 6 | 5 | Caio Pessagno | 54,300 |
| 6 | 6 | Dylan Hortin | 168,400 |
| 6 | 7 | Konstantin Maslak | 96,900 |
| 6 | 8 | Jaroslav Tjepan | 60,500 |
| | | | |
| 7 | 1 | Taylor Paur | 30,000 |
| 7 | 2 | Adrian Luezas Espinosa | 121,600 |
| 7 | 3 | Grayson Ramage | 119,300 |
| 7 | 4 | Athanasios Polychronopoulos | 49,600 |
| 7 | 5 | Zsolt Pentek | 53,300 |
| 7 | 6 | Marcel Luske | 134,600 |
| 7 | 7 | James Johnston | 60,000 |
| 7 | 8 | Roger Teska | 369,700 |
| | | | |
| 8 | 1 | Alex Bilokur | 103,500 |
| 8 | 2 | Marcio Cid Holanda | 109,800 |
| 8 | 3 | Marcelo Fonseca | 235,200 |
| 8 | 4 | Alexander Gustaf Ceder | 128,300 |
| 8 | 5 | Josh Prager | 71,600 |
| 8 | 6 | Martin Leitgebel | 37,100 |
| 8 | 7 | [Removed:17] | 261,200 |
| 8 | 8 | Karen Sarkisyan | 134,200 |
| | | | |
| 9 | 1 | Sylvain Loosli | 189,100 |
| 9 | 2 | Antonio Pace | 183,600 |
| 9 | 3 | Amanda Musumeci | 76,000 |
| 9 | 4 | Alexander Nolan Condon | 137,200 |
| 9 | 5 | Jose Pineda | 227,600 |
| 9 | 6 | Jorge Breda | 308,300 |
| 9 | 7 | Max Silver | 345,200 |
| 9 | 8 | Owen Crowe | 140,000 |
| | | | |
| 10 | 1 | Alex Fitzgerald | 295,400 |
| 10 | 2 | George Lampert | 91,000 |
| 10 | 3 | Tim Reilly | 179,000 |
| 10 | 4 | Rex Alarcon | 258,400 |
| 10 | 5 | Jared Hamby | 187,100 |
| 10 | 6 | Paul Berende | 100,200 |
| 10 | 7 | Julian Braun | 118,000 |
| 10 | 8 | Samuel Greenwood | 402,500 |
| | | | |
| 11 | 1 | Alexander Kuzmin | 221,600 |
| 11 | 2 | Lothar Meier | 57,000 |
| 11 | 3 | John Mcnulty | 174,300 |
| 11 | 5 | Feizal Satchu | 33,500 |
| 11 | 6 | David Garrett Nowling | 95,300 |
| 11 | 7 | Dmitry Grishin | 220,100 |
| 11 | 8 | Matthew Berkey | 372,100 |
| | | | |
| 12 | 1 | Yngve Steen | 298,800 |
| 12 | 2 | Ole Schemion | 103,900 |
| 12 | 3 | Philippe Hardt | 28,800 |
| 12 | 4 | Thomas Hall | 189.000 |
| 12 | 5 | Vanessa Selbst | 251.000 |
| 12 | 6 | Michael Lewin | 139,400 |
| 12 | 7 | Jorgen Sandvoll Lindebo | 313,200 |
| 12 | 8 | Mihai Tusnea | 197,900 |
| | | | |
| 13 | 1 | Andrei Konopelko | 86,600 |
| 13 | 2 | Tim Michels | 69,500 |
| 13 | 3 | Bahbak Oboodi | 235,100 |
| 13 | 4 | Konstantin Shmakov | 58,100 |
| 13 | 5 | Leo Margets | 92,500 |
| 13 | 6 | James St Hilaire | 133,500 |
| 13 | 7 | Pascal Lefrancois | 412,000 |
| 13 | 8 | Edwin Dammert | 225,500 |
| | | | |
| 14 | 1 | Dylan Linde | 246,800 |
| 14 | 2 | Mike McDonald | 240,800 |
| 14 | 3 | Daniel Bavec | 112,700 |
| 14 | 4 | Renato Almeida | 145,100 |
| 14 | 5 | Rajesh Vohra | 295,500 |
| 14 | 6 | Seyed Moussavi | 39,000 |
| 14 | 7 | Gerardo Gomez | 118,400 |
| 14 | 8 | Michael Smith | 71,500 |
| | | | |
| 15 | 1 | William Hamilton | 105,500 |
| 15 | 2 | John Andress | 84,100 |
| 15 | 3 | Carter Gill | 52,000 |
| 15 | 4 | Neils Van Alphen | 186,500 |
| 15 | 5 | Matt Volosevich | 47,700 |
| 15 | 6 | Jude Ainsworth | 264,900 |
| 15 | 7 | Eric Wasserson | 135,000 |
| 15 | 8 | Robert Auer | 184,800 |
| | | | |
| 16 | 1 | Eric Brenes | 109,000 |
| 16 | 2 | Jack Schanbacher | 72,000 |
| 16 | 3 | Walid Raysuli Mubarak Shenadeh | 78,400 |
| 16 | 4 | Antoine Saout | 265,500 |
| 16 | 5 | Grzegorz Derkowski | 300,000 |
| 16 | 6 | Zo Karim | 173,500 |
| 16 | 7 | Andreas Kynsveen | 186,800 |
| 16 | 8 | Pal Zsibrita | 117,300 |
| | | | |
| 17 | 1 | Jordan Hamilton | 261,100 |
| 17 | 2 | Daniel Alcazar Gamez | 91,700 |
| 17 | 3 | David Bell | 192,800 |
| 17 | 4 | Marcin Wydrowski | 66,600 |
| 17 | 5 | Tyler Reiman | 331,800 |
| 17 | 6 | Carolyn Gray | 73,200 |
| 17 | 7 | Paulo Figueiredo Ribeiro | 119,400 |
| 17 | 8 | Rudy Blondeau | 119,000 |
| | | | |
| 18 | 1 | David Baker | 138,000 |
| 18 | 2 | Felix Sides | 112,800 |
| 18 | 3 | Morgan Frederick Crosta | 96,900 |
| 18 | 4 | Maksim Lobzhanidze | 125,300 |
| 18 | 5 | Anton Iaroslavskii | 87,000 |
| 18 | 6 | Patryk Slusarek | 111,600 |
| 18 | 7 | Alex Kravchenko | 75,700 |
| 18 | 8 | Thomas Scholze | 109,500 |
| | | | |
| 19 | 1 | Christian Zarka | 71,500 |
| 19 | 2 | Jesse Huckvale | 62,100 |
| 19 | 3 | Timothy West | 52,700 |
| 19 | 4 | Evan Silverstein | 148,400 |
| 19 | 5 | Alessandra Correa Dos Santos | 106,900 |
| 19 | 6 | Mark Ioli | 111,100 |
| 19 | 7 | Benjamin Zamani | 52,900 |
| 19 | 8 | Jan Meinberg | 60,000 |
| | | | |
| 20 | 1 | Angel Guillen | 185,600 |
| 20 | 2 | Jonathan Padilla | 35,900 |
| 20 | 3 | Jeremy Menard | 94,300 |
| 20 | 4 | Casey Kastle | 21,900 |
| 20 | 5 | Erik van den Berg | 44,000 |
| 20 | 6 | Jorge Luiz Ribeiro | 312,800 |
| 20 | 7 | Walter Buss | 84,800 |
| 20 | 8 | Eugene Todd | 58,100 |
| | | | |
| 21 | 1 | Sam Cohen | 61,700 |
| 21 | 2 | Lucas Greenwood | 198,100 |
| 21 | 3 | Matija Perovic | 49,000 |
| 21 | 4 | Borja Bejarano | 133,500 |
| 21 | 5 | Rudi Johnsen | 126,100 |
| 21 | 6 | Alexander Saladze | 65,600 |
| 21 | 7 | Noah Vaillancourt | 84,200 |
| 21 | 8 | Connor Drinan | 101,000 |
| | | | |
| 22 | 1 | Jack Ellwood | 176,700 |
| 22 | 2 | Christopher Ulsrud | 338,600 |
| 22 | 3 | Max Greenwood | 123,900 |
| 22 | 4 | Bruno Pereira Lima | 221,300 |
| 22 | 5 | William Pilossoph | 40,100 |
| 22 | 6 | Santiago Nadal | 58,500 |
| 22 | 7 | Alan Orestto Robles Salinas | 38,300 |
| 22 | 8 | Andre De Oliveira | 86,100 |
| | | | |
| 23 | 1 | Jesse Yahinuma | 131,100 |
| 23 | 2 | Brian Tae-Hyun Yoon | 181,700 |
| 23 | 3 | Keven Stammen | 342,500 |
| 23 | 4 | Sergio Aido | 138,200 |
| 23 | 5 | Loni Beth Harwood | 151,800 |
| 23 | 6 | Juan Pablo Andreu | 192,500 |
| 23 | 7 | Ismael Bojang | 82,000 |
| 23 | 8 | George Danzer | 121,000 |
| | | | |
| 24 | 1 | Mark De Faria | 156,300 |
| 24 | 2 | Ortiz Fabian | 180,200 |
| 24 | 3 | Sergei Fedorov | 20,500 |
| 24 | 4 | Norman Balla | 84,700 |
| 24 | 5 | Stefan Grunewald | 40,500 |
| 24 | 6 | Franz Ditz | 87,300 |
| 24 | 7 | Allon Allison | 150,600 |
| 24 | 8 | Nemer Haddad | 116,100 |
| | | | |
| 25 | 1 | Liv Boeree | 135,700 |
| 25 | 2 | Daniel Ghionoiu | 167,400 |
| 25 | 3 | Igor Yaroshevskyy | 168,500 |
| 25 | 4 | Christopher Dombrowski | 131,900 |
| 25 | 5 | Nicole Cervenka | 106,200 |
| 25 | 6 | Erik Olofsson | 170,200 |
| 25 | 7 | Jason Helder | 328,000 |
| 25 | 8 | Joe Cassidy | 109,800 |
| | | | |
| 26 | 1 | Kristoffer Edberg | 108,500 |
| 26 | 2 | Daniel Weinman | 265,500 |
| 26 | 3 | Davidi Kitai | 108,700 |
| 26 | 4 | Rojas Parra Patricio | 255,900 |
| 26 | 5 | Martin Raus | 64,200 |
| 26 | 6 | Jason Mercier | 43,800 |
| 26 | 7 | Jorge Carvalho | 93,700 |
| 26 | 8 | troy nisbet | 193,900 |
| | | | |
| 27 | 1 | Fabio Freitas | 118,600 |
| 27 | 2 | Yuri Martins Dzivielevski | 192,500 |
| 27 | 3 | Brian Altman | 362,100 |
| 27 | 4 | Humberto Brenes | 39,000 |
| 27 | 5 | Antonio Esfandiari | 57,000 |
| 27 | 6 | John Dibella | 293,600 |
| 27 | 7 | Laurence Ryan | 38,600 |
| 27 | 8 | Kyle Sorel | 249,000 |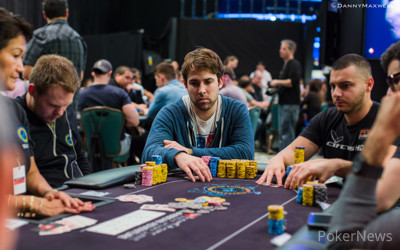 Welcome to Day 3 of the 2014 PokerStars Caribbean Adventure Main Event!
The starting field of 1,031 players is down to just 215, each looking to become the newest PCA Main Event champion and capture the $1,820,420 first-place prize. On top of the chip counts is Pascal Lefrancois with 412,000, followed by Sam Greenwood with 402,500 and Matt Berkey with 372,100.
Team PokerStars is well represented in the Main Event, led by Vanessa Selbst with 251,000. Also still in the hunt are Angel Guillen (185,600), Dario Minieri (168,500), Liv Boeree (135,700), Marcel Luske, (134,600), George Danzer (121,000), Leo Margets (92,500), Alex Kravchenko (75,700), Jason Mercier (43,800), and Humberto Brenes (39,000).
Plenty of other big names also remain, including 2012 PCA Main Event champion John Dibella. He currently sits 20th in chips with 293,600. 2008 PCA Main Event runner-up Ty Reiman (331,800), Maria Ho (300,800), Matt Stout, 257,900, Greg Merson (188,800), and Chris Klodnicki (154,500) are among the many notables still in the hunt.
Play is set to resume at noon local time, about 15 minutes from now, so keep it here throughout the day as we play well into the money!
Nivel: 14
Blinduri: 1,200/2,400
Ante: 300
Nivel 14 : 1,200/2,400, 300 ante
Cards are in the air for Day 3 of the 2014 PokerStars Caribbean Adventure Main Event!
Nivel 14 : 1,200/2,400, 300 ante
Nivel 14 : 1,200/2,400, 300 ante
After a series of raises, James Johnston was all in for about 58,000 with


against Marcel Luske's


. The board ran out




, giving Luske a full house to score the elimination.
Nivel 14 : 1,200/2,400, 300 ante
Matt Stout opened to 5,500 from under the gun and Ben Warrington was his only caller. The flop came down



and Stout continued out for 6,500. Warrington tossed forward a call and the

hit the turn. Two checks allowed the

to finish off the community cards.
Stout checked again and Warrington bet 8,000. Stout called but then mucked his cards after Warrington showed


for the nut flush. Warrington picked up the pot and is off to a good start here, moving his stack up to about 135,000.
Nivel 14 : 1,200/2,400, 300 ante
Picking up the action on a flop of



, Shyam Srinivasan's bet of 7,300 was called by Jennifer Shahade. The
turn fell and Srinivasan bet 17,200. Shahde stuck around, leading to the

river which both checked.
Shahade tabled


, Srinivasan mucked, and Shahade collected the pot.
Nivel 14 : 1,200/2,400, 300 ante
All three Greenwood brothers, Max, Sam and Luc started Day 3 of the PokerStars Caribbean Adventure and if not for a jack on the board we would've lost the first one right now.
Max Greenwood, the oldest of the three and a WSOP bracelet winner, told us how he ended up all in with jacks versus Andre De Oliveira's kings.
"I spiked a jack," Greenwood said with an almost evil looking smile. Greenwood had a rough stretch late last night but this big pot made up for that right away.
Sam started the day as the Greenwood chip leader with 402,500 and Luc hoovers right around the 200,000-chip mark as of right now.
Jucător
Fise
Progres

Max Greenwood

220,000

96,100

Andre De Oliveira

Eliminat