Seat 2: Christoph Csik (United States) - 3,905,000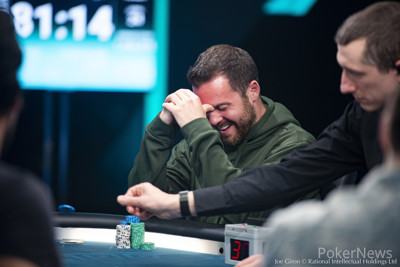 The PCA Main Event is the first tournament that has ever tempted Christoph Csik, 35, to play outside of the USA, where he is currently an itinerant live cash game pro. He has been "loving getting back into tournaments" recently, after nearly a decade of focusing on PLO cash games, from New Jersey to Maryland, via Las Vegas in the summers for the WSOP.
Finding himself in Florida before the PCA, he says he simply thought, "What the hell, why not?" and took a short hop flight to the Bahamas which seemed as good a poker destination as any. That spontaneity has paid off, as he has already topped his previous best tournament cash of $206,020, which accompanied a WSOPC Baltimore ring in 2015.
Csik determined that only a couple of mistakes preceded his appearance on the final table during the five-day run-up, where he has since "made a few". He acknowledges that this pressure on every move is felt more keenly than in the cash games he frequents, as "every decision is so important in tournaments, especially at this stage, and considering how world class these players are." However, he has enjoyed his most recent foray into the tournament circuit despite the pressures of a deep run in one of the most prestigious events of the poker calendar.
"I always knew I had the skill set, but the mindset is what most players struggle with," he said, even as one eye appears to be on the upcoming $25,000 PokerStars Players No Limit Hold'em Championship. "I'm here for the long haul."