€10,300 High Roller
Zilele: 3
€10,300 High Roller
Ziua 3 terminat

Nivel 36 : 300,000/600,000, 100,000 ante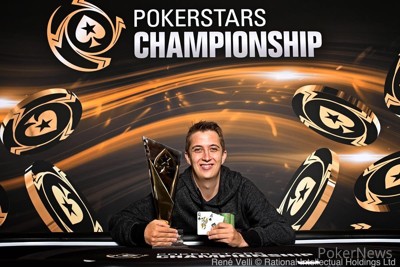 The 2017 PokerStars Championship Barcelona €10,300 High Roller has come to an end, and it was EPT8 Tallinn champion Ronny Kaiser that eventually posed for the winner shots. Kaiser cut a three-way deal with Markus Durnegger and 2017 World Series of Poker Main Event third place finisher Benjamin Pollak before ending up with all the chips, the trophy and a payday of €735,000.
The lion's share of the €5,402,900 prize pool was still up for grabs and 34 hopefuls out of a 557-entry strong field returned to the annex of Casino Barcelona. After six hours of play the final table was reached and start-of-the-day chip leader Ronny Kaiser was still in the top spot.
"This was the first tournament I wasn't emotionally attached to. I went for every bluff and it worked," the Swiss said in table chat. He also mentioned several times not to care about the €10,000 that the trio left aside to play for, but instead wanted to claim the trophy for his girlfriend on the rail. After the deal was cut, the atmosphere was very relaxed and everyone had drinks, cheering with a boisterous rail.
Final Result €10,300 High Roller
| Place | Winner | Country | Prize (EUR) |
| --- | --- | --- | --- |
| 1 | Ronny Kaiser | Switzerland | €735,000* |
| 2 | Markus Durnegger | Austria | €729,299* |
| 3 | Benjamin Pollak | France | €688,701* |
| 4 | Franz Ditz | Germany | €363,100 |
| 5 | Georgios Sotiropoulos | Greece | €284,700 |
| 6 | Jakub Michalak | Poland | €223,700 |
| 7 | Emil Patel | Finland | €166,960 |
| 8 | Luis Rodriguez Cruz | Spain | €115,600 |
*denotes deal of the last three players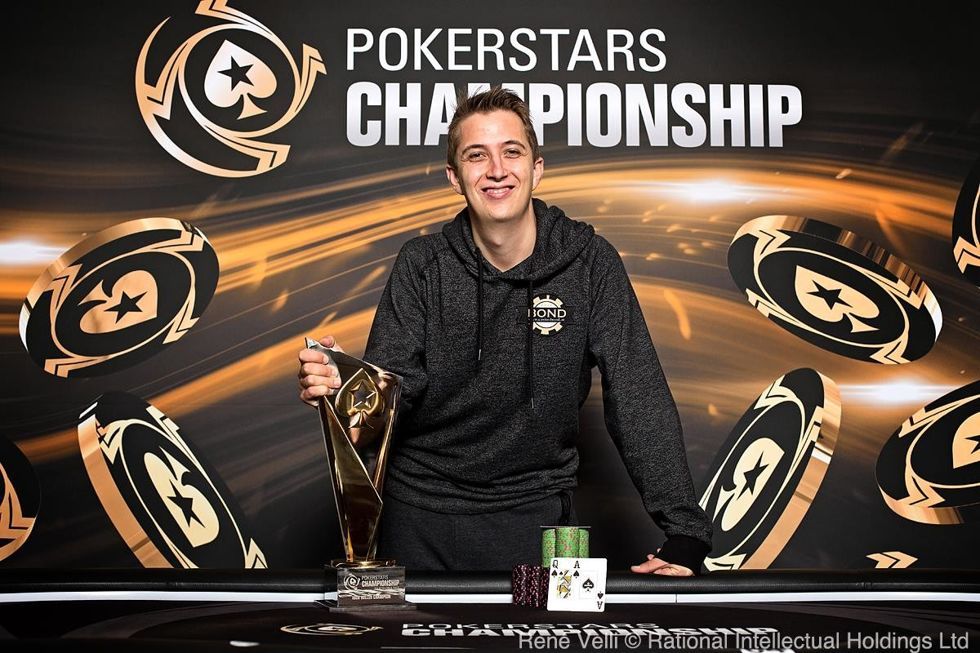 Day 3 action
Timur Margolin was sent to the rail right away and he was soon followed by Shawn Buchanan and JC Alvarado. The latter jumped into Event #49 €5,200 No Limit Hold'em Turbo and claimed the last trophy of the festival after defeating Salman Behbehani heads-up. Nicolas Chouity fell short with ace-six suited versus pocket eights and PokerStars Team Pro Jake Cody followed in 27th place. Cody first lost the majority of his chips in a flip with pocket sevens against the ace-queen of Pascal Hartmann and ran with eights into the kings of Franz Ditz soon after.
The biggest pot of the tournament to date was played with 20 players remaining when Sergio Cabrera moved in over the top of the shove of Boris Kolev and Benjamin Pollak looked them both up with the superior stack. Kolev had queens, Pollak kings and Cabrera aces. Pollak spiked a king on the flop and river to dispatch two opponents with four of a kind and soared into a big stack. The two Frenchmen Fabrice Maltez and Alexandre Reard were the next two casualties and the last two tables were set.
Pascal Hartmann failed to hold up with pocket queens against the ten-nine of Luid Rodriguez Cruz on a ten-nine high turn and lost the remainder of his stack the next hand. Marius Gierse had a kicker problem with ace-nine suited against ace-jack and an ace-jack high flop spelled the end of the German, who was joined on the rail by Marc-Olivier Perrault. The French-Canadian stood no chance with ace-queen against the pocket aces of Ronny Kaiser. Parker " tonkaaaa" Talbot had to settle for 13th place after ending up second-best with king-jack versus ace-jack and the third Canadian casualty in a row was complete when Christopher Kruk ran out of chips.
The eliminations of Sam Grafton and Oliver Weis set up the unofficial final table and Quan Zhou lost a big flip with pocket queens versus ace-king to send his stack over to Jakub Michalak. Luis Rodriguez Cruz failed to improve with king-jack suited versus ace-ten and had to settle for 8th place while another four players ran out of chips before the dinner break. Emil Patel five-bet with pocket kings and called the six-bet shove of Ronny Kaiser, who turned over ace-king and immediately spiked an ace on the flop.
Jakub Michalak four-bet shoved with pocket jacks and Markus Durnegger called with ace-king. An ace appeared on the flop and Michalak was gone in 6th place. In the last hand before the dinner break, Georgios Sotiropoulos flopped top two pair with ace-king and Ronny Kaiser turned a straight with queen-ten before the chips went in after a blank river, and that left just four players in contention.
Once the action got back underway, Franz Ditz doubled his short stack before ending up second-best with ace-ten against the ace-king of Benjamin Pollak. The remaining three players discussed a deal and shook hands, leaving the trophy and €10,000 to the winner while shortening the blind levels to ten minutes. Pollak was eliminated in third place when he got it in with king-ten for top pair on the turn only to see Markus Durnegger turn over pocket kings for the over pair and flush draw. No miracle ten appeared and it was Durnegger against Ronny Kaiser in heads-up.
Both the Swiss and Austrian rail were enjoying the show and neither's king-queen could finish the job. Ultimately, Ronny Kaiser and Markus Durnegger decided to flip all in blind. Durnegger won the first flip to get almost even in chips before the second flip saw him turn over jack-five of clubs. Kaiser had ace-queen of spades and faded the two live cards, an open-ended straight draw and flush draw to jump up in celebration and take a selfie with the trophy.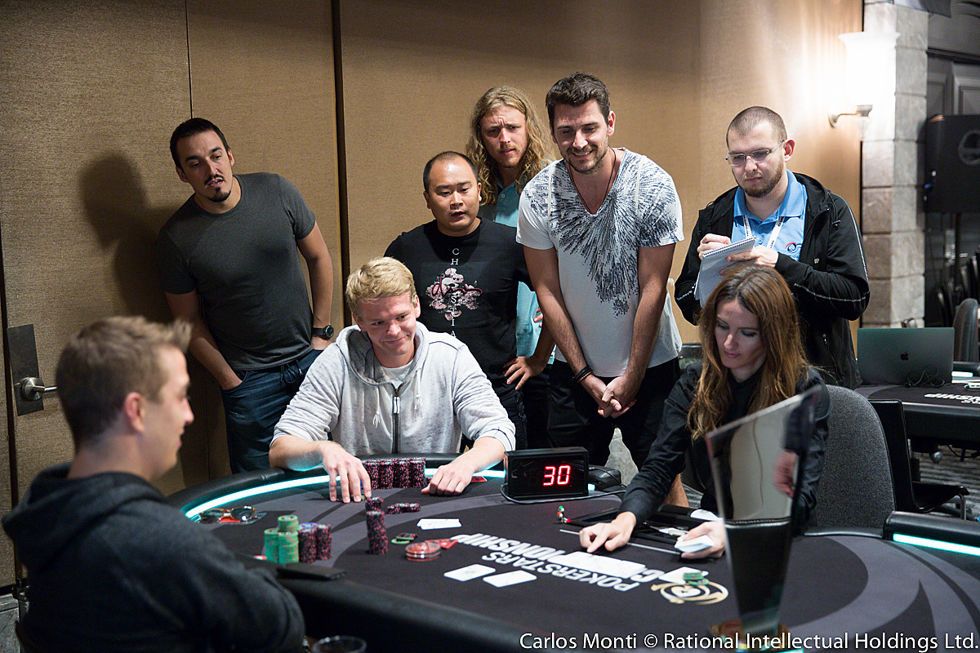 That marks the end of the PokerNews live reporting here from Barcelona, but the next exciting live events are already around the corner.

Nivel 36 : 300,000/600,000, 100,000 ante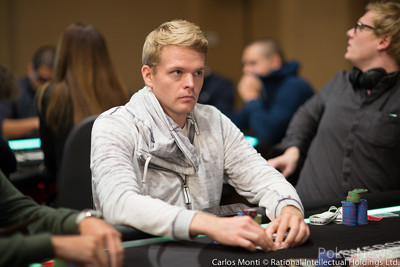 In the second blind flip with almost even stacks, Markus Durnegger turned over


first and Ronny Kaiser sweated his cards. The

caused some early celebration by his rail and the

that came along with it was also very welcomed.
The


flop changed nothing much, but Durnegger's rail cheered loudly when the

turn gave the Austrian a ton of outs. However, it was Kaiser that would celebrate one card later as the blank

river kept his hand in the lead.
Durnegger finishes in 2nd place and takes home €729,299 for his efforts, while Kaiser claims the trophy (for his girlfriend) and a payday of €735,000. A recap of today's action is to follow.
Nivel: 36
Blinduri: 300,000/600,000
Ante: 100,000

Nivel 35 : 250,000/500,000, 50,000 ante
The players have decided to go all in blind from here on out. The first hand, Markus Durnegger moved in and Ronny Kaiser called.
Markus Durnegger:


Ronny Kaiser:

While Kaiser flopped a pair on


, the pot would go to Durnegger as the
on the turn and

on the river gave him a flush.

Nivel 35 : 250,000/500,000, 50,000 ante
Ronny Kaiser and Markus Durnegger both had each other at risk when holding king-queen and ended up second best.
Kaiser just now raised to 1,500,000 and Durnegger called. On the



flop, Kaiser bet 500,000 and Durnegger folded. "You remember this?" Kaiser grinned and flashed

.
Nivel: 35
Blinduri: 250,000/500,000
Ante: 50,000

Nivel 34 : 200,000/400,000, 50,000 ante
In a limped pot, the flop of



was checked and the

turn was checked by Markus Durnegger. Ronny Kaiser bet 400,000 and Durnegger called before check-calling another 1,200,000 by Kaiser on the

river. Kaiser flashed


and that won the pot.
Then, Durnegger limped and Kaiser raised to 1,200,000. Durnegger called and faced the shove of Kaiser on the



flop. After checking his cards, Durnegger folded and fell back further.

Nivel 34 : 200,000/400,000, 50,000 ante
In the last hand of the previous level, a limped pot saw the flop of



and Ronny Kaiser bet 300,000. Markus Durnegger raised to 800,000 and Kaiser moved all in to force a fold, showing


.
Once the blinds moved up, Durnegger shoved with


for 5,255,000 and Kaiser called with


. The board came




and Durnegger turned a deuce to double.
Durnegger raised the next limped hand to 1.4 million and was called by Kaiser, before betting the



flop. Kaiser glanced at his cards again and folded.
Nivel: 34
Blinduri: 200,000/400,000
Ante: 50,000