Mateos on the Gap in Skill Level Between Spanish Players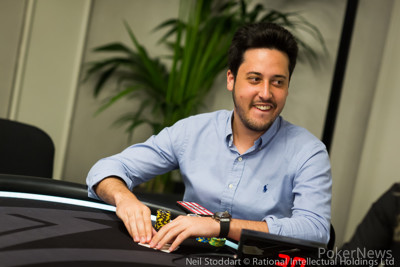 Poker is popular in Spain, there's no doubt about that. The €1,100 National Championship that preceded the Main Event at PokerStars Championship Barcelona attracted a record-breaking field of 4,557, the biggest in PokerStars history.
While the Spaniards love poker, people from around the world also still love to play against them. According to Adrian Mateos, one of the most famed and successful Spanish players in history before he's even exited his early 20s, that's because there's a lot of poker fans and poker enthusiasts, but not a whole lot of Spanish poker professionals.
"Poker in Spain has two different groups," he said. "There's a big difference between the players who live in Spain and the people who move to a different country to play."
With poker regulated in Spain, a secluded market emerged. Spanish players logging onto PokerStars.es can't play against players from other countries, similar to the situation in, for example, Italy. The result is a gap in skill level between those who stayed and played exclusively against Spanish players, and those who moved to battle the rest of the world from a different country.
"It's a big gap because you have to make a big decision if you want to play professionally and move, or stay home and play not that high," he said. "It's a big difference."
Adrian Mateos
| | | | | | | | | | |
| --- | --- | --- | --- | --- | --- | --- | --- | --- | --- |
| All Time Money List: | 63rd | | | | | | | | |
| Spanish All Time Money List: | 2nd | | | | | | | | |
| GPI Ranking: | 5th | | | | | | | | |
| Total Live Earnings: | $9,200,682 | | | | | | | | |
Mateos moved to London where he lives together with other Spanish poker players. A "grinders house," as he likes to call it. They eat, talk and breathe poker; their lives circle around the game.
"We live together and improve a lot," he said. "I think that's why professional Spanish players are really good. We play professionally and study a lot, it's normal that the gap with the rest exists. "
Mateos isn't just talking to Spanish players, he's also good friends with some of the other regulars on the circuit. The language barrier was a big hurdle to tackle, though.
When he won the Estrellas Main Event and WSOPE Main Event back in 2013, Mateos spoke hardly any English. But, he has improved a lot and now feels comfortable enough to be interviewed in English.
"Little by little, I try to improve my English so I can speak with more people," he said. "But I still spend the most time talking with Spanish players. Maybe that will change."
Six-figure live scores:
| Date | Buy In | Event | Position | | Prize |
| --- | --- | --- | --- | --- | --- |
| October 2013 | €10,450 | WSOPE Main Event | 1st | €1,000,000 | $1,351,661 |
| May 2015 | €10,600 | EPT Monte Carlo Main Event | 1st | €1,082,000 | $1,214,161 |
| April 2017 | €50,000 | PokerStars Championship Monte Carlo Super High Roller | 1st | €908,000 | $988,924 |
| March 2017 | $50,000 | SHRPO Super High Roller | 2nd | | $413,567 |
| June 2016 | $1,500 | WSOP Summer Solstice | 1st | | $409,171 |
| June 2017 | $10,000 | WSOP Heads-Up Championship | 1st | | $336,656 |
| July 2016 | $111,111 | WSOP High Roller for One Drop | 11th | | $310,550 |
| May 2017 | $50,000 | Aria Super High Roller | 2nd | | $293,340 |
| December 2016 | €25,500 | EPT Prague High Roller | 3rd | €260,300 | $ 276,665 |
| May 2017 | $100,000 | Aria Super High Roller | 7th | | $264,600 |
| December 2016 | $25,000 | WPT Five Diamond High Roller | 2nd | | $247,680 |
| December 2015 | €25,500 | EPT Prague High Roller | 4th | €193,050 | $211,933 |
| April 2016 | $10,000 | WPT Seminole Hard Rock | 4th | | $200,510 |
| March 2017 | $25,000 | Aria High Roller | 2nd | | $186,000 |
| January 2013 | €1,100 | Estrellas Main Event | 1st | €103,053 | $137,247 |
| July 2016 | $25,000 | Bellagio High Roller | 3rd | | $131,040 |
| AUgust 2016 | €50,000 | EPT Barcelona Super High Roller | 12th | €98,000 | $111,026 |
| December 2016 | $25,000 | WPT Five Diamond High Roller | 6th | | $107,520 |