Seat 3: Brian Kaufman Esposito, 27, Montevideo/Uruguay, PokerStars - 6,475,000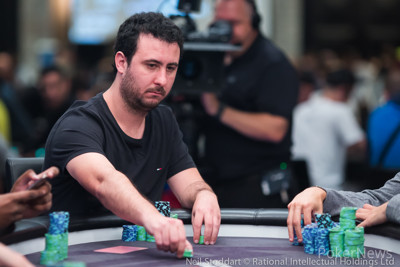 Uruguay's Brian Kaufman gave up his economy studies a year and a half ago to pursue his professional poker career. While he revealed the decision didn't come easy, Kaufman's drive towards poker is paying off. The 27-year-old from Montevideo is exclusively a tournament player.
He hadn't been seen much on the live felt but qualified for PokerStars Championship Main Event online at PokerStars. Kaufman made sure his name would be remembered after his first trip to the Catalonian capital. He made it to the final table in the largest live tournament in PokerStars history, finishing eighth in a 4,557-entry field in the PokerStars National Championship.
Kaufman is now marching to the Main Event final table, riding a wave of success. He's already guaranteed a bigger reward than the €66,370 from the National Championship. But Kaufman needs a top five finish to score his overall personal best result. He's notched two six-figure prizes including one exceeding $300,000.
Outside of poker, Kaufman's main hobby is music. He plays guitar at home. Kaufman is also a football fan, a proud supporter of his hometown team National Montevideo.
Kaufman's Main Event run:
| Entering | Chips | Position |
| --- | --- | --- |
| Day 2 | 62,800 | 317 / 865 |
| Day 3 | 267,000 | 53 / 287 |
| Day 4 | 1,465,000 | 8 / 70 |
| Day 5 | 5,480,000 | 2 / 16 |
| Day 6 | 6,475,000 | 4 / 6 |