Hands #79-83: Sorrentino Doubles on the River
Nivel 36 : 250,000-500,000, 50,000 ante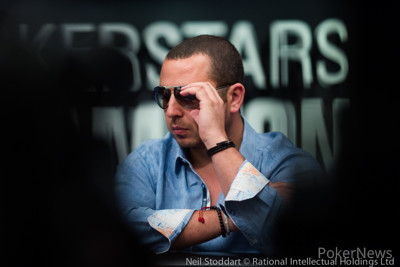 Hand #79: Andre Akkari opened to 1.1 million under the gun with


and got flatted by big blind Lachezar Petkov with


. Petkov checked after flopping top set on



. Akkari fired in 900,000 and Petkov continued to keep the pot on the small side with a call. Both checked when a

hit, bringing an

.
Petkov checked and Akkari waved the white flag.
Hand #80: Brian Kaufman opened for 1,050,000 with


in the cutoff. Akkari put in the requisite calling chips with


in the big blind. Akkari paired when



hit, keeping his lead. Check-check and a

hit. Akkari checked again and Kaufman wanted to see another free one:

. Akkari checked a third time and Kaufman put in 1.3 million, winning the pot when Akkari folded.
Hand #81: Petkov raised all in on the button with


and swept up the blinds and antes.
Hand #82: Petkov came in raising with 1.1 million in the cutoff with


. Akkari was dealt


on the button and three-bet to 2,775,000. Petkov considered things and mucked.
Hand #83: Akkari opened to 1.1 million in the cutoff with

. Raffaele Sorrentino shoved all in with


for 7.1 million in the big blind.
The



kept things clean for Akkari. A

turn did nothing for the Italian. However, the

popped off the deck to give Sorrentino the double and keep him live for a second PokerStars Championship title.
Jucător
Fise
Progres

Raffaele Sorrentino

14,700,000

7,400,000

Brian Kaufman Esposito

9,600,000

600,000

Andre Akkari

9,525,000

-6,505,000

Lachezar Plamenov Petkov

8,400,000

-550,000

Sebastian Sorensson

8,175,000

-955,000