Sam Grafton has won the PokerStars Festival Bucharest Main Event for €117,707. The immensely popular Brit bested a 736-player field on his way to taking down his biggest live tournament for five years.
After the win, Grafton said that he felt "really proud," and that the title felt like a completion of something he'd been trying to do for the past six years of playing PokerStars events.
"Back when I started I didn't realise what it took to win a live tournament. I didn't value the runs I made. When I got this opportunity, and from 40 players out I felt really determined and it felt like a really good shot at a title."
| Position | Name | Country | Payout |
| --- | --- | --- | --- |
| 1 | Sam Grafton | United Kingdom | €117,707* |
| 2 | Anil Ozdemir | Turkey | €96,933* |
| 3 | Daniel Nietrzebka | Poland | €57,600 |
| 4 | Fahredin Mustafov | Bulgaria | €43,500 |
| 5 | Patrick Bueno | France | €34,400 |
| 6 | Johann Eclapier | France | €26,091 |
| 7 | Traian Bostan | Romania | €18,720 |
| 8 | Yuriy Kudrynskyy | Ukraine | €12,790 |
| | | | * denotes heads-up deal |
With the final table dynamic tilted with the dominating chip stacks of Grafton and his heads-up opponent Anil Ozdemir, Grafton said that the dynamic was a strange one.
"We had half the chips in play between us, but he had me well covered. I had to play well and just try and take that into account. I'm experienced enough and I've played a lot online so I'm used to that sort of table dynamic."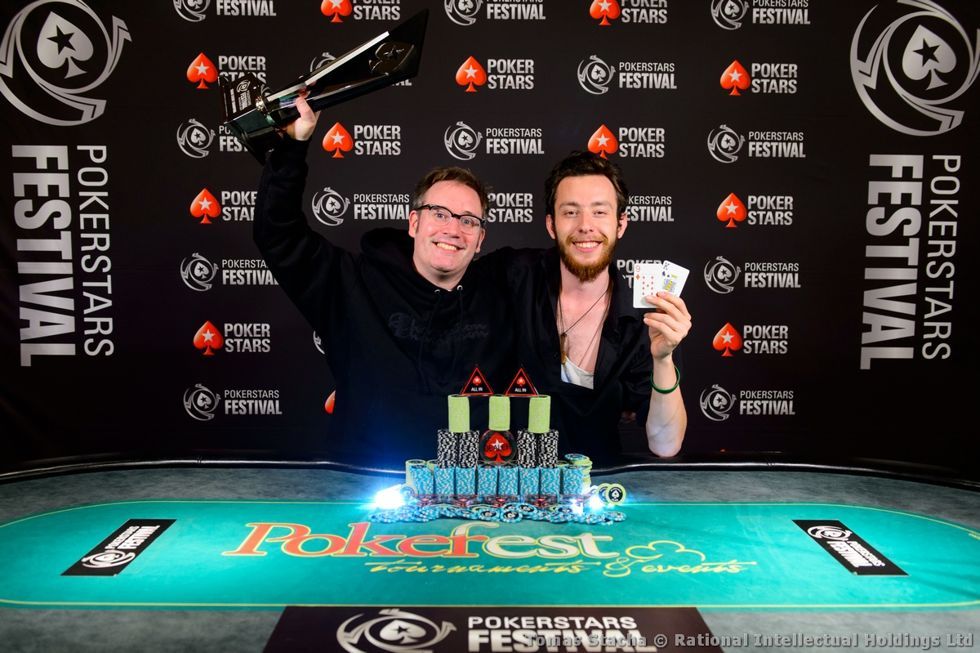 Play went from four-handed to heads-up in one hand, which Grafton said was an enjoyable experience for him as a spectator.
"That was a very sick hand. I felt sorry for Daniel [Nietrzebka] because he played the hand really well only to end up getting third. It's a huge pot and he played King's incredibly well."
However, there was one thing missing from a Brit heads-up for a major title: a rowdy British rail.
"I think it helped me that there was no distraction! There have been no distractions all week going out, or socialising quite as much as I do at the table.
"I was able to be quite focussed and a little bit more subdued than normal, so I've got to consider that for the future."
However, in the end Grafton was quick to thank everyone who had helped him along the way.
"I don't wanna overstate it, but I feel very pleased. I've had a lot of support through the years from all parts of the poker community; the players, bloggers, the staff and it's nice to reward so many people's patience and support in me now that I've achieved this title.
"I feel a little sad that some people who have railed me in the past couldn't be here. Everyone's been so good to me at Stars events."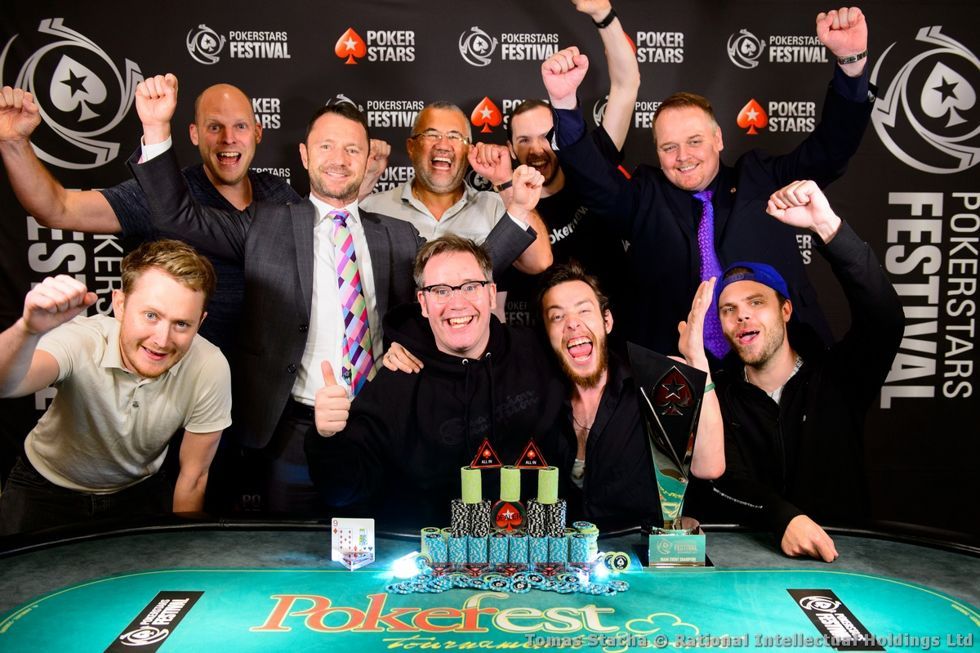 It was a frantic start to the final day here in Bucharest, with two eliminations in the first three hands! First Traian Bostan, who was chip leader for most of yesterday, shoved blind on blind against Grafton only for Bostan to emerge second best and become the first casualty of the day.
In the very next hand Johann Eclapier got his remaining chips in against fellow short stack Patrick Bueno. Eclapier had King-Queen but was dominated by the Ace-King of Bueno, and after receiving now help from the flop, turn, or river, Eclapier was eliminated.
Bueno was next to go 30 minutes later. He was one of three players with a sub-20 big blind stack at the start of the day, and he was unlucky when his pocket Tens were cracked by the Ace-King of Daniel Nietrzebka in the most brutal of fashions – an Ace on the river.
It had been a quiet day thusfar for start-of-day chip leader Anil Ozdemir, who had retained his chip lead despite Nietrzebka doubling through him in almost a three million chip pot. In fact the two would tussle again and again throughout the day, with Ozdemir four-bet folding to Nietrzebka to allow the Pole to take over the chip lead.
You could have been forgiven to have thought that following the frantic start to the day, that the action would have stopped, but the poker Gods delivered another exciting hand in blockbuster fashion.
Short stack Fahredin Mustafov, who had laddered expertly while nursing a shortstack, moved all in and was followed swiftly by the stacks of Ozdemir and Nietrzebka. Mustafov held


, Ozdemir


and Nietrzebka


.
Ozdemir took the lead with a set of jacks on the flop of



, but Nietrzebka held a king-high flush draw. The turn completed that flush coming

. However, the river was the

giving Ozdemir a full house and eliminating both Nietrzebka and Mustafov.
With that we were down to heads-up play, with Ozdemir holding a more than 2:1 chip lead, and would continue to dominate proceedings even when Grafton doubled through the Turk when he faded a straight draw with Queens.
That was the turning point in the match. From then on Grafton pushed home his advantage. There was to be sniff of a double-up for Ozdemir to get back into the match. The final nail in the coffin was Ozdemir's fold in the penultimate hand of the match, only for Grafton to clinch it with a runner-runner straight in the very next hand.