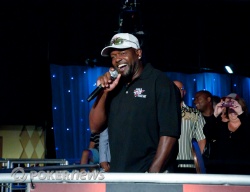 He's a Florida Gator, Dallas Cowboy, brother of Phi Beta Sigma, three time Super Bowl champion, the NFL all-time rushing leader and a future Hall of Famer.
Still can't guess?
Emmitt Smith kicked off today's action with, "Shuffle and play" rather than the traditional, "Shuffle up and deal." We'll give him a pass this time, but his next false start will be a five-yard penalty.
How 'bout them Cowboys?