Event #10: $1,500 No-Limit Hold'em / Six Handed
Zilele: 2
Event #10: $1,500 No-Limit Hold'em / Six Handed
Ziua 2 început
| Table | Seat | Player | Chips |
| --- | --- | --- | --- |
| 339 | 1 | Robert Beck | 39,100 |
| 339 | 2 | Orson Young | 34,600 |
| 339 | 3 | James Casement | 32,000 |
| 339 | 4 | Ryan Welch | 156,300 |
| 339 | 5 | Victor Ramdin | 21,900 |
| 339 | 6 | Johnny Woolen | 68,100 |
| | | | |
| 344 | 1 | Steven Goosen | 82,900 |
| 344 | 2 | Davidi Kitai | 43,800 |
| 344 | 3 | Arthur Morris | 44,000 |
| 344 | 5 | Mark Rasmussen | 28,900 |
| 344 | 6 | Nicholas Blumenthal | 74,400 |
| | | | |
| 345 | 1 | Alex Kamberis | 80,300 |
| 345 | 2 | Paul Lieu | 42,400 |
| 345 | 3 | Alex Melnikow | 34,500 |
| 345 | 4 | Micah Hendrix | 44,300 |
| 345 | 5 | Tod Holley | 26,800 |
| 345 | 6 | Melanie Weisner | 24,500 |
| | | | |
| 346 | 1 | Jacob Toole | 51,000 |
| 346 | 2 | Kent Paton | 6,400 |
| 346 | 3 | Corey Quinonez | 24,800 |
| 346 | 4 | Sean Grover | 65,200 |
| 346 | 5 | Phuc Chau | 11,300 |
| 346 | 6 | Stefan Hendrickx | 9,500 |
| | | | |
| 347 | 1 | Jesse Sylvia | 52,800 |
| 347 | 2 | Jose Nacho Barbero | 45,400 |
| 347 | 3 | Bradley Craig | 86,100 |
| 347 | 4 | Mario Perez | 45,100 |
| 347 | 5 | Clayton Prinster | 28,400 |
| 347 | 6 | Efren Garcia | 70,900 |
| | | | |
| 348 | 1 | Jeffrey Coddington | 47,600 |
| 348 | 2 | Glenn Tappenden | 35,000 |
| 348 | 3 | Marc Blais | 38,600 |
| 348 | 4 | Derek Milosavljevic | 28,300 |
| 348 | 5 | Kevin Kung | 31,900 |
| 348 | 6 | Bryan Horist | 79,100 |
| | | | |
| 349 | 1 | Jeffrey Papola | 27,800 |
| 349 | 2 | Ervin Tormos | 55,100 |
| 349 | 3 | Jason Deutsch | 29,600 |
| 349 | 4 | Michael Glasser | 36,600 |
| 349 | 5 | Greg Mueller | 41,600 |
| 349 | 6 | Karl Mahrenholz | 38,400 |
| | | | |
| 350 | 1 | Denise Molloy | 30,700 |
| 350 | 2 | James Calderaro | 41,900 |
| 350 | 3 | Dale Jamison | 37,600 |
| 350 | 4 | Andre Boyer | 32,800 |
| 350 | 5 | Michael Hallen | 71,500 |
| 350 | 6 | Nathan Amar | 46,500 |
| | | | |
| 351 | 1 | Jacob Naquin | 21,700 |
| 351 | 2 | Andrew Youngblood | 38,500 |
| 351 | 3 | Robert Layne | 37,500 |
| 351 | 4 | Dermot Blain | 37,700 |
| 351 | 5 | Paul Loh | 50,900 |
| 351 | 6 | Jesse Kremer | 18,900 |
| | | | |
| 352 | 1 | Manuel Davidian | 32,100 |
| 352 | 2 | Steven Gross | 41,800 |
| 352 | 3 | Alexander Argoe | 36,400 |
| 352 | 4 | Barry Wiedemann | 57,300 |
| 352 | 5 | George Jalkotzy | 52,200 |
| 352 | 6 | William Mikolay | 58,300 |
| | | | |
| 353 | 1 | Jared Ingles | 63,400 |
| 353 | 2 | Cliff Josephy | 24,500 |
| 353 | 3 | Alex Findlay | 17,700 |
| 353 | 4 | Andrew Schultz | 64,300 |
| 353 | 5 | Matthew Jarvis | 23,300 |
| 353 | 6 | Kathryn Sikorski | 22,100 |
| | | | |
| 354 | 1 | Alexander Barlow | 53,000 |
| 354 | 2 | Steven Mcnally | 65,000 |
| 354 | 3 | Mark Bryan | 22,900 |
| 354 | 4 | Mark Flowers | 52,200 |
| 354 | 5 | Mohsin Charania | 56,300 |
| 354 | 6 | Anthony Spinella | 223,000 |
| | | | |
| 355 | 1 | Steven Fenic | 23,000 |
| 355 | 2 | Shaun Hartlin | 21,700 |
| 355 | 3 | Clayton Newman | 15,200 |
| 355 | 4 | Michael Hauptman | 51,900 |
| 355 | 5 | Michael Rocco | 101,800 |
| 355 | 6 | Christian Kohl | 43,400 |
| | | | |
| 356 | 1 | Elliott Zaydman | 119,300 |
| 356 | 2 | Marc Mclaughlin | 69,600 |
| 356 | 3 | Neil Willerson | 27,700 |
| 356 | 4 | Fabio Coppola | 69,000 |
| 356 | 5 | Benoit Albiges | 71,400 |
| 356 | 6 | Marc Dupre | 37,700 |
| | | | |
| 357 | 1 | Grant Hinkle | 57,900 |
| 357 | 2 | Brett Hartfiel | 50,100 |
| 357 | 3 | Tommy Vedes | 32,500 |
| 357 | 4 | Samuel Gerber | 65,600 |
| 357 | 5 | Danny Noam | 11,700 |
| 357 | 6 | Erica Schoenberg | 39,300 |
| | | | |
| 358 | 1 | Jose-Luis Velador | 21,000 |
| 358 | 2 | Nicholas Mitchell | 77,300 |
| 358 | 3 | Javier Rueda | 42,000 |
| 358 | 4 | Robert Williamson III | 6,800 |
| 358 | 5 | Thomas Applegate | 22,200 |
| 358 | 6 | Matthew Deluca | 41,900 |
| | | | |
| 359 | 1 | Sida Yuen | 39,400 |
| 359 | 2 | Bryce Daifuku | 13,500 |
| 359 | 3 | Keith Donovan | 78,100 |
| 359 | 4 | Kartheeharan Nagarajan | 55,400 |
| 359 | 5 | Darren Wong | 37,600 |
| 359 | 6 | Amit Makhija | 103,800 |
| | | | |
| 360 | 1 | Matthew Bucaric | 45,100 |
| 360 | 2 | Hewitt Poland | 40,700 |
| 360 | 3 | Mike Ellis | 27,300 |
| 360 | 4 | Raymond Gerst | 23,800 |
| 360 | 6 | Chase Bianchi | 80,700 |
| | | | |
| 361 | 2 | Jeremy Maher | 38,800 |
| 361 | 3 | Lewis Hunter | 18,200 |
| 361 | 4 | Bryan Colin | 128,100 |
| 361 | 5 | Alexander Venovski | 38,000 |
| 361 | 6 | Philip Meulyzer | 29,000 |
| | | | |
| 362 | 1 | Grantland Hillman | 27,700 |
| 362 | 2 | Jordan Morgan | 24,800 |
| 362 | 3 | Joshua Mullen | 55,900 |
| 362 | 4 | Eric Schwartz | 16,000 |
| 362 | 5 | Numit Agrawal | 45,800 |
| | | | |
| 363 | 1 | Nicholas Ricciardi | 14,100 |
| 363 | 2 | Joseph Brattole | 44,400 |
| 363 | 3 | Andrew Shack | 35,400 |
| 363 | 4 | Bryan Cooper | 56,000 |
| 363 | 5 | Oleksii Kovalchuk | 92,100 |
| 363 | 6 | Zach Clark | 105,100 |
| | | | |
| 364 | 1 | Leonard Rowley | 19,900 |
| 364 | 2 | Grudi Grudev | 68,800 |
| 364 | 3 | Jeffrey Roper | 31,900 |
| 364 | 4 | Alexandre Luneau | 62,200 |
| 364 | 5 | Dennis Beres | 80,400 |
| 364 | 6 | Gregory Dyer | 64,500 |
| | | | |
| 365 | 1 | Geffrey Klein | DNR |
| 365 | 2 | Darren Elias | 8,000 |
| 365 | 3 | Alexander Wice | 87,200 |
| 365 | 4 | Sebastian Marquardt | 16,600 |
| 365 | 5 | Gabriel Andrade | 57,500 |
| 365 | 6 | Joseph Ebanks | 110,000 |
| | | | |
| 366 | 1 | Peter Jetten | 33,300 |
| 366 | 2 | Tom Macey | 68,000 |
| 366 | 3 | Seth Hilleren | 16,200 |
| 366 | 4 | David Vamplew | 62,100 |
| 366 | 5 | Daniel Buzgon | 18,800 |
| 366 | 6 | Shawn Keller | 66,600 |
| | | | |
| 367 | 1 | Grayson Ramage | 43,400 |
| 367 | 2 | Ian Gillespie | 20,300 |
| 367 | 3 | Timothy Clark | 64,800 |
| 367 | 4 | Derrick Yamada | 17,300 |
| 367 | 5 | Samuel Ngai | 46,000 |
| 367 | 6 | John Kim | 24,600 |
| | | | |
| 368 | 1 | William Chao | 15,300 |
| 368 | 2 | Alexandre Gauron | 67,600 |
| 368 | 3 | Shankar Pillai | 63,300 |
| 368 | 4 | Hans Bosman | 35,000 |
| 368 | 5 | Anders Taylor | 117,000 |
| 368 | 6 | Alex Lindop | 43,500 |
| | | | |
| 369 | 1 | Daniel Suied | 38,000 |
| 369 | 2 | Anthony Lessel | 53,300 |
| 369 | 3 | Michael Minetti | 21,200 |
| 369 | 4 | Alexander Wilson | 19,600 |
| 369 | 5 | Bryan Paris | 36,300 |
| 369 | 6 | Gary Homberger | 15,300 |
| | | | |
| 370 | 1 | Bryan Piccioli | 18,700 |
| 370 | 2 | Mario Cordero | 34,600 |
| 370 | 3 | Adam Kornuth | 66,100 |
| 370 | 4 | Gregory Merson | 26,300 |
| 370 | 5 | Darrick Rains | 50,600 |
| 370 | 6 | Chris Klodnicki | 75,500 |
| | | | |
| 372 | 1 | Kurt Jewell | 32,200 |
| 372 | 2 | Kenichi Takarabe | 25,500 |
| 372 | 3 | Jonathon Poche | DNR |
| 372 | 4 | Ankush Mandavia | 76,300 |
| 372 | 5 | Alex Santiago | 50,600 |
| 372 | 6 | Ralph (Rafal) Michalowski | 18,000 |
| | | | |
| 373 | 1 | Mazin Khoury | 75,200 |
| 373 | 2 | Tyler Sumrall | 17,700 |
| 373 | 3 | Joseph Stefan | 42,900 |
| 373 | 4 | Matt Stout | 69,100 |
| 373 | 5 | Shawn Green | 27,200 |
| 373 | 6 | Wade Woelfel | 26,800 |
| | | | |
| 375 | 1 | Karl Pirkopf | 16,800 |
| 375 | 2 | Scott Zakheim | 25,700 |
| 375 | 3 | Ryan Carter | 41,700 |
| 375 | 4 | Marvin Rettenmaier | 43,800 |
| 375 | 5 | Bryan Barrile | 14,700 |
| 375 | 6 | Eric Froehlich | 47,700 |
| | | | |
| 376 | 1 | Paul Richardson | 45,800 |
| 376 | 2 | Ravi Raghavan | 28,800 |
| 376 | 3 | Ali Eslami | 37,100 |
| 376 | 4 | Todd Phillips | 13,700 |
| 376 | 5 | Mauro Stivoli | 89,700 |
| 376 | 6 | Oscar Castagna | 43,500 |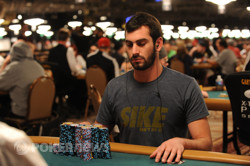 Welcome back for Day 2 of Event #10: $1,500 No-Limit Hold'em / Six Handed here at the 2011 World Series of Poker. The massive field of 1,920 has been cut down to just 188 players after Day 1 took place on Monday, and the remaining field will return just eight spots away from the money. Leading the way into Day 2 is Anthony Spinella with 223,000.
Spinella is the only player to eclipse the 200,000-chip mark on Day 1 and a handful of players follow behind him with six-figure stacks. The man is second place is a bracelet winner from last year, Ryan Welch. He has 156,300 in chips coming into Day 2. Bryan Colin sits in third with 128,100.
Two Team PokerStars Pros return for Day 2 and they are Nacho Barbero and Victor Ramdin. We've also got Amit Makhija, Zach Clark, Alex Kamberis, Matt Stout and Mohsin Charania still in the field and looking for a deep run. That second group of players all have healthy stacks, but as always the case, not everyone can be so fortunate.
Stefan Hendrickx, Darren Elias, Robert Williamson III and Kent Paton are all coming into Tuesday with under 10,000 in chips. They'll have the sratch and claw their way to the money if they want to see a return on their investment, but we all know anything can happen in poker. Just recently in Event #4: $5,000 No-Limit Hold'em, Maria Ho came from second-to-last in chips on Day 3 with 42 players left to take second place and over $540,000 in prize money. These four players will surely be hoping for much of the same run good here in this event.
Play kicks off at 2:30 PM PT here in Las Vegas at the Rio. We invite everyone to come on down and watch the amazing poker action going on day in and day out, but if you can't make it down in person, PokerNews is your best bet for all your WSOP coverage! Stay tuned for Day 2 and check out the June 7th WSOP update from our very own Sarah Grant, she's got the scoop on it all.
Nivel: 11
Blinduri: 500/1,000
Ante: 100
Nivel 11 : 500/1,000, 100 ante
After a brief pause for the Amir Lehavot's bracelet presentation, the tournament director gave the order here the Amazon Room and the cards are now in the air!
Nivel 11 : 500/1,000, 100 ante
We've already seen aces cracked on the first hand of the day for Table #348 in Amazon Purple.
We missed the action preflop, but came in when all the chips were in the middle. Kevin Kung was all in for 31,900 with
, and he was called by Marc Blais with


.
The board ran out




, giving Blais the straight on the river with the
. Kung, obviously shocked, realized he was covered and walked out of the Amazon Room slowly with his jaw dropped.
Blais is now up to 72,000 and is running hot to start Day 2.
Nivel 11 : 500/1,000, 100 ante
We're hand for hand right now and getting oh so very close to the money here in the $1,500 No-Limit Hold'em / Six Handed. Play has slowed to a crawl on most tables, but we've already had one or two busts, including Stefan Hendrickx and Matt Jarvis.
Jarvis shipped his last 21,300 with

and got called down by Andrew Schultz with

A

on the flop was enough to send Jarvis packing short of the money.
Nivel 11 : 500/1,000, 100 ante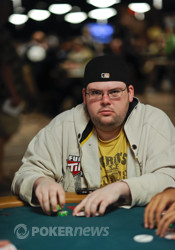 We are in the money here at the $1,500 No-Limit Hold'em / Six Handed. Today surprisingly enough, we had two big names bust on the same hand to put the rest of the field in the money.
We already told you about 2010 Main Event final table member Matt Jarvis busting, but recent $25,000 Heads-Up Championship semifinalist Eric Froehlich busted on the same hand at a different table.
We're not sure exactly how much he had when he did it, but "E-Fro" made a big bet on the flop of



and Marvin Rettenmaier moved all in. Froehlich called turning over


and Rettenmaier showed


for an up and down straight draw. Unfortunately for Froehlich, the turn and river were


and Rettenmaier hit trips to send Froehlich out as our co-bubble boy.
Nivel 11 : 500/1,000, 100 ante
With the bust-out rate picking up at an alarming rate, we've just witnessed Jesse Sylvia's elimination over the course of two hands as the action continues in Day 2 of Event #10.
On a board of



, Sylvia and Efren Garcia were involved in some heavy post-flop betting action, which resulted in all the money getting into the middle. Sylvia tabled


for middle set, but ran smack into the


of Garcia.
"That's sick," Sylvia muttered as the turn and river bricked out

,
. With only 2,000 left, Sylvia shipped that in from the small blind with


in the very next hand after a preflop raise by Mario Perez from the cutoff. Jose Ignacio Barbero called from the big blind, then Barbero and Perez checked all the way down the board of





.
It wasn't pretty, but Barbero's


was more than enough to seal Sylvia's fate. And while we didn't get the hand details, we can also report that Tommy Vedes has also hit the rail.
Nivel 11 : 500/1,000, 100 ante
It is carnage in the Amazon Room right now, so much so that our field reporter returned with a stack of PokerNews Tournament ID cards about two inches thick. Here's just a small sample of the bust-outs we were able to witness:
Daniel Buzgon was crippled after losing a crucial flip with


against Peter Jetten's


when a queen hit on the river. Left with just 1,600 in chips, he moved those all-in the very next hand with


after a preflop raise from Seth Hilleren. Hilleren snap-called with


and Buzgon was gone after the board was spread




.
Denise Molloy was then eliminated at the hands of Michael Hallen after she moved the last of her money in preflop with

, but failed to improve against Hallen's


. Both paired their ace on the flop but that wasn't enough for Molloy.
And earlier, Karl Mahrenholz moved all-in before the flop with


and found himself well ahead of Jeffrey Papola's


, but Papola managed to bink a set of fours on the river. All three players have also joined Gabriel Andrade, Derrick Yamada, Michael Minetti and Karl Pirkopf on the rail.