Event #10: $1,500 No-Limit Hold'em / Six Handed
Zilele: 2
Nivel: 20
Blinduri: 5,000/10,000
Ante: 1,000
Nivel 20 : 5,000/10,000, 1,000 ante
The cards are back in the air! One more level before we bag and tag for the night.
Nivel 20 : 5,000/10,000, 1,000 ante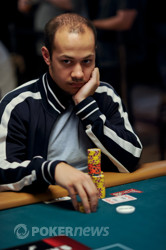 The action has been a bit frantic over the past few minutes.
Anthony Spinella and Elliott Zaydman ended up all in after a flop of



.
Spinella:

Zaydman:

The turn and river brought the

and

and Spinella doubled up.
While that excitement was going on, Alexander Wilson had gone all in on another table. We were told that the board read




and Wilson's

was no match for another player's

. He was eliminated just shy of the final three tables.
And with that, we've re-drawn for seats and the final three tables are now battling it out!
Nivel 20 : 5,000/10,000, 1,000 ante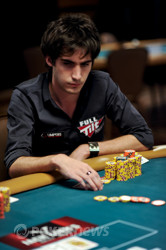 Luneau lost a big hand leaving him with only 35k. In middle position Alexander Wice raised to 20,000 and Luneau moved in for his last little bit with


and was called by Wice with


The board ran




and Luneau went to the rail in 18th place.
Nivel 20 : 5,000/10,000, 1,000 ante
We missed the action, but he's gone in 17th.
Nivel 20 : 5,000/10,000, 1,000 ante
With only 15 minutes to go until play wraps up for the night, the remaining 15 players have eased up on the tables, but we've managed to see what could be the start of a war of attrition between Ravi Raghavan and Bryan Colin.
Earlier, Colin raised to 21,000 from under the gun and the action folded around to Raghavan who called from the small blind to go heads-up to the flop of



. Raghavan check-called Colin's bet of 27,000 after the flop, but then check-folded to Colin's bet of 66,000 on the turn of the

.
In the next hand, Raghavan was able to win some of those chips back; he raised to 25,000 from the button and again, Colin was his only opponent, calling from the big blind before check-folding to Raghavan's bet of 30,000 on the flop of



.
Yay, poker!
Nivel 20 : 5,000/10,000, 1,000 ante
The tournament supervisor has paused the clock with ten minutes to go and has instructed the dealers to do three more hands before calling it a night.
Nivel 20 : 5,000/10,000, 1,000 ante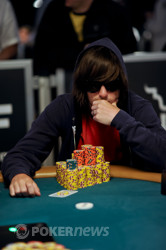 It has been one helluva day in the Amazon Room here at the Rio!
The second day of WSOP Event #10 was frenetic, to say the least. Right from the word go, the eliminations came thick and fast and the money was reached within 30 minutes of the first level, with Eric Froelich and 2010 WSOP Main Event November Niner Matt Jarvis sharing the bubble boy "honors".
From there, the carnage continued, with the rate of attrition not letting up for a moment until 10 minutes before the players bagged and tagged. Amongst those to have cashed today include Erica Schoenberg, Mark Flowers, Peter Jetten, Grant Hinkle and Greg Mueller, as well as Argentinian Team PokerStars Pro Jose Ignacio Barbero and Friend of PokerStars, Bill Chen.
And after 12 hours of play, we have our final 15 players. Jeffrey Papola (AKA "The Six-Max King") is definitely the odds-on favorite to take it down. Having already won a bracelet in the $5,000 Six Handed No Limit Hold'em event last year (which came off a runner-up finish in the $2,500 version),Papola's on top of the pops with 1,088,000.
Still, the price is nice for Alexander Wice, who's breathing down Papola's neck with 1,013,000 in chips. George Jalkotzy (849,000), Eddie Blumenthal (808,000) and David Vamplew (698,000) round off the top five.
It's anybody's game though, and there's no doubt that we'll be in for a bloodbath come 2.30pm PST tomorrow, so be sure to log on, sign in and keep your browsers locked onto PokerNews for all the action. Until then, it's ciao for now!
Event #10: $1,500 No-Limit Hold'em / Six Handed
Ziua 2 terminat