Event #16: $10,000 2-7 Draw Lowball Championship (No-Limit)
Zilele: 3
Event #16: $10,000 2-7 Draw Lowball Championship (No-Limit)
Ziua 3 început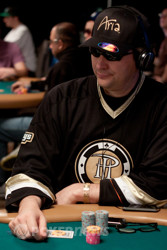 The 2-7 Draw Championship began with 126 players each putting up the $10,000 buy-in, and two days later, we're down to our final nine. No first timers here. Each of them are well familiar with the pressure that comes along with playing deep in a WSOP event.
Just ask Phil Hellmuth, who's gunning for his astounding 41st career WSOP final table today. He's got 11 bracelets, too, and both of those numbers are good for the all-time lead. In fact, today is the four-year anniversary of Hellmuth's last WSOP title, a win in a $1,500 No-Limit Hold'em event. All of Hellmuth's bracelets are in that game, and you can just imagine the boost his ego would receive if he can conquer another game.
The rest of our final nine are no slouches, either, though. A total of 21 bracelets are owned by the players left, and only Joe Cassidy has yet to get his hands on WSOP gold. Today could well be the day he fills in that blank spot on his scorecard, though he'd still have to do this another 10 times to catch Hellmuth. The rest of the bracelets? Look at the field that's left: John Juanda has four bracelets and a WSOP-E Main Event title. Greg Raymer won the whole shebang in 2005 to snag his first bracelet and lots of millions of dollars, and Richard Ashby, David Baker, Steve Sung, Hasan Habib, and Nick Schulman also own WSOP bracelets.
It's definitely not all about Hellmuth today. At least not for now. Schulman won this event in 2009, and Baker shipped his first bracelet here last year. Both of those former champs are still in contention as well, and Baker comes into the day with a third-place chip stack and a keen eye set on repeating.
We're just 15 minutes away from our starting time, and we're over here in the Purple section of the Amazon room. Not for long, though. When we lose one more player, we're going to rack up and migrate to ESPN's main featured table. The mother ship is glowing.
Don't wander away. This is shaping up to be the most exciting finish yet at the 2011 WSOP.
Nivel: 19
Blinduri: 5,000/10,000
Ante: 3,000
Nivel 19 : 5,000/10,000, 3,000 ante
With the action having folded around to the blinds, Nick Schulman raised it up to 30,000, and Phil Hellmuth gave him a long stare before calling from the big blind. Schulman took one card, and Hellmuth stood pat.
After the draw, Schulman checked, and Hellmuth announced, "Queen!"
"Queen is good," Schulman said, fumbling his cards around in his hands. Hellmuth gets the first pot of the day.
Hasan Habib spoke up. "Were you pat, Phil?"
"Yeah."
Habib was amused. "Ooooh. We're playing poker today, boys!"
Nivel 19 : 5,000/10,000, 3,000 ante
From the button Phil Hellmuth made it 35,000 to go. Hasan Habib made the call from the big blind and drew one card while Hellmuth stood pat.
After peering down at his hand after the draw, Habib fired out a bet for 30,000. Hellmuth leaned back in his chair and sighed.
"Alright Hasan I think I've had enough of you. You've beat me in every pot but now it's my turn." Hellmuth said as he let his cards go into the muck.
The Hellmuth/Habib rivalry seems to be continuing today and Hellmuth seems more focused than ever in regard to outplaying his nemesis at this table.
Nivel 19 : 5,000/10,000, 3,000 ante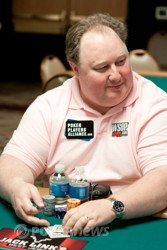 Greg Raymer raised to 25,000 under the gun, and he was called only by Richard Ashby who defended his big blind. Ashby took two cards, and Raymer took one. After the draw, Ashby checked, then called a bet of 30,000 from Raymer.
"Ten-seven," came the call as Raymer tabled





. Ashby had drawn well but not quite well enough, opening up his





as the dealer took his chips.
Raymer moves up to about 380,000 with that pot, while Ashby falls back to about 660,000.
Nivel 19 : 5,000/10,000, 3,000 ante
Under the gun, John Juanda opened to 30,000, and the action came around to Greg Raymer in the big blind. He announced a three-bet shove rather quickly, and Juanda was put to the decision for the 165,000 chips he had back. He spent a good while pondering with wide eyes before making the call. Both men patted.
It sounded like Raymer announced a ten, but we can't be sure. What we do know is Juanda showed





, and that was good enough to secure his double. He's back to 407,000 thanks to that, while Raymer is forced down to the short stack of 190,000.
Nivel 19 : 5,000/10,000, 3,000 ante
From under the gun, Steve Sung made it 28,000 and Phil Hellmuth made the call from the big blind. Both players stood pat and the action went check-check.
"I have the nuts", said Hellmuth. He tabled





.
"Phil....you showed a ten-nine there, buddy. You don't have the nuts" said Nick Schulman
"When he checks behind me that's the nuts. I know he'd bet a jack-eight there" retorted Hellmuth.
"What kind of glasses are you wearing, Phil?" jabbed Habib.
Even though it wasn't "the nuts", Hellmuth's ten-nine was enough to scoop a pot of about 90,000.
Nivel 19 : 5,000/10,000, 3,000 ante
John Juanda opened to 32,000 on the button, and Joe Cassidy three-bet to 84,000 from the small blind. Juanda took his time making the decision, eventually sliding the calling stack into the middle.
Both men took one card, and Cassidy slowly checked. Juanda was not checking, instead shoving out a pot-sized bet of 180,000. Cassidy sunk into the tank. He's pensive anyways, but he would take three or four long moments to mull this one over. He double- and triple-checked his cards, then stared across at Juanda who was having a hard time with the cap on his water bottle.
Cassidy eventually surrendered with a frown, and Juanda is up over the half-million chip mark after beginning the day on the short stack.
Jucător
Fise
Progres

Richard Ashby

645,000

-15,000

John Juanda

510,000

103,000

David Bakes Baker

470,000

-22,000

Joe Cassidy

420,000

-120,000

Hasan Habib

415,000

-22,000

Phil Hellmuth

390,000

51,000

Steve Sung

380,000

-61,000

Nick Schulman

290,000

-16,000

Greg Raymer

170,000

-20,000