Denis Ethier Eliminated in 6th Place ($43,512)
Nivel 26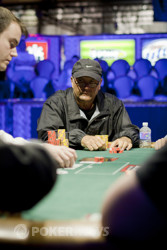 Stud:
Adam Friedman: (X)(X) -



- (X)
Aaron Steury: (X)(X) -



- (X)
Denis Ethier: (X)(X) -



- (X)
Ethier found himself all in after the betting on sixth street and was at risk. Friedman folded to a bet by Steury and the players revealed their down cards. Ethier tabled the


in the hole and the

on seventh street, for a lone pair of jacks. Steury flipped up his


hole cards and a

received on seventh street, for two pair, eights and deuces and he chipped up to 1,380,000 after the hand.
This meant that Ethier was eliminated in sixth place and he will pocket $43,512 for his finish.