Montgomery Vs. Somerville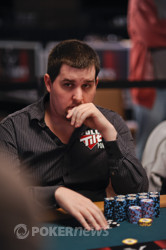 We caught up to the action and found Scott Montgomery defending his big blind by calling a raise from a middle position Jason Somerville preflop.
On a



flop we saw Montgomery check-call a bet of 3,000 from Somerville. A

turn brought two checks from both players.
It wasn't until the river

that the fireworks went off. Montgomery checked and it looked like Somerville might check again, but after about a minute he put out a bet of 6,000. Another two minutes went by and it was Montgomery who was raising, making it 17,000 total.
It was clear to see from Somerville's face that he was distraught and not happy about Montgomery's bet. Eventually after a couple of minutes passed Somerville made the call.
Montgomery flipped over

for just a pair of aces. All Somerville had to do was show something better and the pot was his. He couldn't do so and threw his cards in the muck.