Dovzhenko Takes Out Buss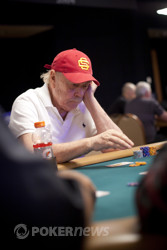 Jerry Buss was all in before fifth street, watching Hernan Novick and Alexander Dovzhenko battling it out for the side pot.
Buss:


/



/


Dovzhenko:


/




/


Novick:


/




Dovzhenko bet on sixth and seventh street with his pair of sevens showing. Novick called him down, but mucked when Dovzhenko tabled


for trips. Buss could not beat it either, ending his tournament during the early stages of Level 11.
Jucător
Fise
Progres

Alexander Dovzhenko

77,000

300

Hernan Novick

76,000

-14,000

Jerry Buss

Eliminat