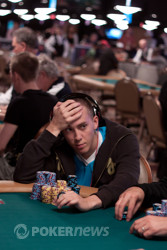 The final day of Event #22 at the WSOP, the $1,500 Pot-Limit Omaha tournament, has arrived and just nine players are left to compete for the gold bracelet and nearly $300,000 in prize money at stake. After a grueling two days of competition, 1,017 runners have been whittled down to the final table and each player remaining can practically feel the coveted hardware around their wrists.
Juha Vilkki of Finland is seeking to complete an impressive wire-to-wire victory, after vaulting to the top of the chip counts during both Day 1 and Day 2 of the tournament. The creative online regular will enter the final table arena with a dominant lead, holding twice as many chips as any other player with his 1,235,000 stack.
While Vilkki has been the star of the show thus far, he will face stiff competition from the likes of Rafe Kibrit (667,000), Cody Munger (652,000), Stephen Wolfe (523,000) and Elie Payan (545,000). Each of these players proved their mettle throughout the first two days of play and all will be looking to bring Vilkki back down to Earth.
The man who may pose the biggest threat to Juha Vilkki may just be Jeff Sarwer (480,000), a former chess prodigy who has excelled at competitive gameplay since he was a young child. Sarwer and Vilkki shared a table for much of Day 2 and seemed to have developed a grudging respect for each others' style of play. These two players define the mental acuity and nuanced play necessary to excel at Pot-Limit Omaha and we expect neither man to back down with the gold bracelet at stake.
Final Table Seat Draw
| Seat | Player | Chips |
| --- | --- | --- |
| 1 | Elie Payan | 545,000 |
| 2 | Stephen Wolfe | 523,000 |
| 3 | Cody Munger | 652,000 |
| 4 | Jeff Sarwer | 480,000 |
| 5 | Roland Israelashvili | 310,000 |
| 6 | David Sands | 250,000 |
| 7 | Emil Patel | 147,000 |
| 8 | Juha Vilkki | 1,235,000 |
| 9 | Rafe Kibrit | 667,000 |
Check in with PokerNews beginning at 2:30 PST to follow all of the final table action, as a new champion will be crowned here at the 2011 World Series of Poker. Also, be sure to check out the June 15th update from the lovely Lynn Gilmartin.