Event #23: $2,500 Eight-Game Mix
Zilele: 2
Jucător
Fise
Progres

Adam Geyer

230,000

-10,000

John Juanda

195,000

15,000

Ben Yu

173,000

-68,000

Sirous Baghchehsaraie

118,000

-43,000

Rami Boukai

109,000

58,000

Gregory Dyer

90,000

20,000

Sanjay Pandya

31,000

-61,000
The clock has been paused with ten minutes left, and we'll play three more hands at each table, then call it a night. The cocktail server was just coming through the tables, and it's a time when a lot of players like to order a celebratory drink or three. It was surprisingly quiet around the tables, except for Michele Limongi who ordered, "Another espresso, just like the last one." To each his own.
We'll skip the coffee for tonight -- it is 3:00 in the morning, dear lord -- but those cocktails do sound pretty good right about now.
Nivel 18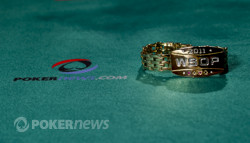 Day 2 of Event #23: $2,500 Eight-Game Mix is in the books, and after ten levels of play, John Racener is our chip leader with 363,600 chips. After the dinner break, Racener swiftly ascended the ranks, becoming one of the first players to break the 100,000-chip mark.
Racener isn't the only player with a big stack though, Mayu Roca Uribe (327,100), Adam Geyer (278,800), and Adam Kornuth (241,200) are all over 200,000 chips and biting at Racener's heels.
We entered the day with 210 players, and en route to making the money at 48, we lost a ton of great players including Scott Clements, Greg Mueller, Allen Bari, Frank Kassela, Josh Arieh, Bryn Kenney, Victor Ramdin, Noah Boeken and last year's champion in this event; Sigurd Eskeland.
Eleven-time bracelet winner Phil Hellmuth also fell short of the money. He busted in 75th place after getting the remainder of his short stack in the middle with


during a no limit hold'em rotation. Shaun Deeb looked him up with


, and held when the board ran




.
Deeb barely creeped into the money himself with a 47th place finish. He lost consecutive pots at his table near the bubble, and after it burst he was quickly out the door. Deeb actually helped burst the bubble, eliminating Bruno Benveniste in a four-way Omaha eight or better hand.
Joining Deeb on the rail after the money bubble were Gabriel Nassif, Jimmy Fricke, Eric Baldwin, Dan Kelly, and 2011 bracelet winners Brian Rast and Eugene Katchalov.
John Juanda, another 2011 bracelet winner, is in contention for his second bracelet of the series. He has 187,000 chips, and is a few tables away from his 28th WSOP final table.
The action resumes tomorrow at 3 p.m. PST, right here in the Amazon Room at the Rio All Suites and Casino Resort. We will play down to a champion - unless ten levels passes before that time. Be sure to stay tuned to PokerNews for up-to-the-minute updates from this and every bracelet event at the 2011 WSOP.
Good night from Las Vegas!
Nivel 18
| Table | Seat | Player | Chips |
| --- | --- | --- | --- |
| 280 | 1 | Rami Boukai | 107,700 |
| 280 | 2 | Sirous Baghchehsaraie | 122,200 |
| 280 | 3 | Shawn Buchanan | 126,300 |
| 280 | 4 | John Monnette | 199,500 |
| 280 | 5 | Konstantin Puchkov | 41,900 |
| 280 | 6 | Eric Buchman | 203,400 |
| 280 | 7 | --empty-- | -- |
| 280 | 8 | --empty-- | -- |
| | | | |
| 286 | 1 | --empty-- | -- |
| 286 | 2 | --empty-- | -- |
| 286 | 3 | Michele Limongi | 237,800 |
| 286 | 4 | John Racener | 363,600 |
| 286 | 5 | Mikko Pispala | 125,500 |
| 286 | 6 | Greg Dyer | 93,300 |
| 286 | 7 | Sanjay Pandya | 32,900 |
| 286 | 8 | Ben Yu | 138,200 |
| | | | |
| 292 | 1 | --empty-- | -- |
| 292 | 2 | --empty-- | -- |
| 292 | 3 | Nikolay Evdakov | 38,100 |
| 292 | 4 | Hooman Nikzad | 95,700 |
| 292 | 5 | Owais Ahmed | 39,200 |
| 292 | 6 | Ylon Schwartz | 185,300 |
| 292 | 7 | Adam Geyer | 278,800 |
| 292 | 8 | John Juanda | 187,000 |
| | | | |
| 298 | 1 | --empty-- | -- |
| 298 | 2 | Robert Rosengarten | 42,700 |
| 298 | 3 | Desmond Portano | 68,900 |
| 298 | 4 | Max Pescatori | 24,400 |
| 298 | 5 | Marco Traniello | 153,500 |
| 298 | 6 | Mayu Roca Uribe | 327,100 |
| 298 | 7 | Adam Kornuth | 241,200 |
| 298 | 8 | Brent Hanks | 211,200 |
Event #23: $2,500 Eight-Game Mix
Ziua 2 terminat