Event #25: $1,500 Seven Card Stud Hi-Low-8 or Better
Zilele: 4
Event #25: $1,500 Seven Card Stud Hi-Low-8 or Better
Ziua 4 început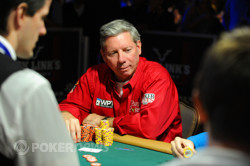 For the first time in this 2011 World Series of Poker, heads-up play was suspended at the hard stop, and just two players will return today for this fourth and decisive day. Perhaps it was for the better anyways; this event deserves a proper stage here in the Amazon Room.
On a day in which the members of the Seniors' Hall of Fame were honored on the Pavilion stage, Hall of Famer Mike Sexton will take to the felt in search of his second gold bracelet. Sexton has accomplished nearly everything there is to accomplish in this game, and the carryover over this battle should ensure a properly robust crowd filling the seats of the main featured table arena. It should be fairly pro-Sexton in the bleachers today, we'd guess. Mr. Sexton is in the Top 100 on the all-time money list with more than $4 million in winnings to his name. He's got the fifth-most Main Event cashes of anyone in poker history, and his name and face are iconic in televised poker. He has a Wikipedia page. Apart from his accolades on the felt, Sexton is truly one of the good guys of the game, beloved by the masses for his calming drawl and his genuine smile. Twenty-two years ago, Sexton won tasted WSOP gold for the first time. The game? $1,500 Stud Hi-Lo.
Across the felt from Sexton will sit Chris "PiMaster" Viox, a stud from the online tables looking to make a lasting mark on this live Stud event. His WSOP resume boasts 13 cashes over the past five years, but none have come close to matching this one in both money to be won and drama to be found.
Viox has the upper hand with about a 3:1 chip lead as play resumes, and Sexton is going to have to grind it out early. The stacks are getting shallow, but the stage is set perfectly for a long afternoon battle if we can manage it. We could be on the verge of a very grand scene at the 2011 WSOP.
We're just a few minutes away from our scheduled starting time, but things appear to be moving a bit slowly right now. There's a few last-minute loose ends to tie up, and we'll be back with a status update in just a few minutes.
Don't wander away from this one!
Mike Sexton and Chris Viox have taken the stage, and they're unbagging their chips right now. The introductions are under way, and this battle is just about to fire off.
"Hey, how can we get the cards on the monitor?" someone from the crowd yelled. The camera overhead is a tight shot of the flop area of the table -- not exactly helpful for this game.
Viox tried, "We could switch it to hold'em."
Nivel: 29
Limite: 60,000/120,000
Ante: 15,000
Nivel 29 : 60,000/120,000, 15,000 ante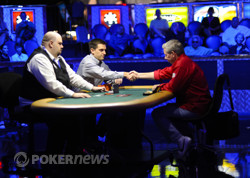 Play is under way.
Nivel 29 : 60,000/120,000, 15,000 ante
On the first hand, Chris Viox brought it in with a deuce, and Mike Sexton's completion with a king won him the first pot of the day.
Nivel 29 : 60,000/120,000, 15,000 ante
On fourth street, with his board reading (x-x) /


, Chris Viox checked and Mike Sexton bet 120,000 with his (x-x) /


. This was enough to force the fold and Sexton has chipped up slightly to begin this heads-up contest.
Nivel 29 : 60,000/120,000, 15,000 ante
Chris Viox brought it in with the

, and Mike Sexton completed the

. Viox raised, and Sexton quickly tucked and mucked.
Nivel 29 : 60,000/120,000, 15,000 ante
With the

up, Chris Viox was the bring-in, and he called the completion from Mike Sexton and the

.
Viox: (x-x) /




Sexton: (x-x) /




On fourth street, Sexton bet his lead, and Viox called. When the pair came on fifth, Sexton bet it again, and Viox was right there with another call. On sixth, Sexton slowed down with a check, and Viox fired the big bet of 120,000. His bet sent Sexton deep into the tank, shaking his head and turning the gears. He double-checked his down cards, then counted down what's left of his stack. It's about 360,000, and Sexton eventually decided this wasn't the spot, tucking them under and laying them down.
Viox is in control now, reducing Sexton to just a couple bets.