Event #25: $1,500 Seven Card Stud Hi-Low-8 or Better
Zilele: 1
Event #25: $1,500 Seven Card Stud Hi-Low-8 or Better
Ziua 1 terminat
Official Day 1 Chip Counts
Jucător
Fise
Progres

Hernan Novick

43,400

Cyndy Violette

43,400

Michael Sigel

41,500

Michael Leah

36,600

Tom Dwan

35,500

Hakon Lundberg

34,400

Alexander Dovzhenko

33,600

Ming Reslock

33,500

Norman Chad

33,400

David Levi

33,100

Nikolai Yakovenko

33,100

Frank Kassela

32,100

Chris Tryba

31,900

Hernan Salazar

31,700

Kristy Gazes

31,400

Chris Viox

31,400

Tyson Marks

30,000

George Hardie

29,800

David Warga

28,200

Manuel Labandeira

28,200

Jim Collopy

27,700

Mike Sexton

27,100

James Bucci

26,500

Jonathan Vuong

25,900

Karina Jett

25,300
Nivel 8 : 500/1,000, 100 ante
Lock this one away, ladies and gents – Day 1 of WSOP Event #25 is in the books!
It was a step back in time for many of the 606 players who ponied up the $1,500 for today's event, with plenty of WSOP bracelet winners, including Men Nguyen, Mike Sexton, Scotty Nguyen, Mel Judah, David Slansky and Tom Schneider.
However, there were just as many from the online generation to have taken their seats today, including reigning WSOP Main Event champion Jonathan Duhamel, Jon Turner and Sean Nguyen. The old school did manage to teach the young'uns a thing or two and at the end of the night, we've got ourselves a two-way tie for the chip lead, with Cyndy Violette and Hevan Novick each holding 43,400! They're followed closely by Michael Sigel (41,500), Tom Dwan (35,500), Norman Chad (35,400), 2010 WSOP Player of the Year Frank Kassela (32,100) and Mike Sexton (27,100).
In all, 172 players will be returning tomorrow, but those who won't be joining us include Team PokerStars Pros Daniel Negreanu and Chad Brown, as well as David Benyamine, Allen "The Chainsaw" Kessler, Todd Brunson, Ted Forrest, Bill Chen and Huck Seed.
Be sure to join us here at PokerNews once again when we resume our coverage of this event from 3pm PST (GMT -7). Until then, it's goodnight from the Rio!
Here are the counts of some of the big stacks and big names that we could grab.
Jucător
Fise
Progres

Hevan Novick

43,400

Cyndy Violette

43,400

40,200

Michael Sigel

41,500

Tom Dwan

35,500

28,000

Norman Chad

33,400

Frank Kassela

32,100

Kristy Gazes

31,400

Mike Sexton

27,100

Karina Jett

25,300

Jason Mercier

23,600

Matt Savage

12,400

6,700

Maria Ho

12,200

Barry Greenstein

8,800

Jonathan Duhamel

3,900
Nivel 8 : 500/1,000, 100 ante
The tournament supervisor has instructed the dealers to deal three more hands before we bag 'em and tag 'em.
Nivel 8 : 500/1,000, 100 ante
Have you ever wondered what the inside of those giant trailers sitting in the parking lot of the Rio look like? Well, Team PokerStars Pro Daniel Negreanu gave us a tour inside his:
Jonathan Duhamel:


/




/


Opponent:


/




/

Duhamel completed before the opponent in the one-seat raised. Duhamel four-bet, the opponent five-bet it and Duhamel called before calling the opponent's all-in bet after fourth street.
After all the cards were dealt out, the opponent ended up with trip kings and with no qualifying low, he scooped the pot, leaving the 2010 WSOP Main Event champion with just 3,200 in chips.
Nivel 8 : 500/1,000, 100 ante
Jett: (x)(x) /




/ (x)
Opponent: (x)(x) /



/ (x)
We caught the action on fourth street, where Karina Jett check called her opponents bet. She would do this on fifth street, and again on sixth street. On seventh street, she checked again, and her opponent checked behind. Jett showed

for a straight on seventh street, and her opponent mucked. Jett is now up to 32,000, and looks to be in great shape to start a run at back to back final tables in this event.
Nivel 8 : 500/1,000, 100 ante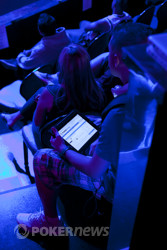 The action here at the Rio All-Suite Hotel & Casino continues tomorrow from 12pm PST (GMT -7) with Event #26: $2,500 No Limit Hold'em Six Handed event, then the stars will come out to shine at 5pm for the start of the $10,000 World Championship Limit Hold'em event!
All this, plus much more, right here at PokerNews, the Official Live Update Team for the 2011 WSOP!
Nivel: 8
Limite: 500/1,000
Ante: 100