Hold the Action; This Bracelet Will Have to Wait
Nivel 28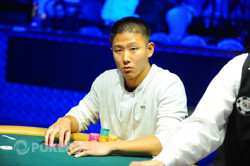 Well, that was a day. We're going to mince words here since they're shutting off the lights and sweeping the carpets on awesome little machines that resemble miniature Zambonis. It looks like they want us out of here.
Today was the third (and supposedly final) day of this Event #29, but like so many other events this summer, it's going to bleed over into a fourth day. Just three players remain from our starting field of 431, and all three of them have had their hands on the chip lead at one point or another today. Here's how they stack up at night's end:
| Player | Chips |
| --- | --- |
| Chris Lee | 1,425,000 |
| Brian Haveson | 997,000 |
| Travis Pearson | 813,000 |
Of the final four players today, Shaun Deeb must have had the most fun. He was in seemingly every pot during every game, and his chip stack showed signs of good use. After dinner, Deeb went from the chip lead with 650,000 to the short stack with 150,000, and back to the commanding chip leader at 1.02 million. All within an hour. It was a roller-coaster day, but the wheels finally began to wobble as the hours dragged on. A combination of bad beats and unfortunate spots left Deeb crippled, and he was eliminated by Travis Pearson on the final hand of the night.
That leaves Chris "Genius28" Lee atop the trio, and the four have a date with this stage tomorrow. The restart will be at 4:00 P.M., and we'll be back inside the mothership to bring you the conclusion of this inaugural ten-game event.
Until later on today, all that's left is goodnight!
The daily update...