Event #30: $1,000 Seniors No-Limit Hold'em Championship
Zilele: 3
Nivel 26 : 20,000-40,000, 5,000 ante
Player are on a 20-minute break.
Nivel 26 : 20,000-40,000, 5,000 ante
Walter Browne raised to 115,000 from the hi-jack and action folded around to James Jewell in the big blind, who went all-in for 710,000. Browne tanked for several minutes but finally slid in a call.
Browne:



Jewell:


The flop came



, giving Jewell and flush draw. The
turn gave Jewell the flush and the river came the

, doubling Jewell up.
Having doubled another player up, Browne is down to just 300,000. Jewell is up to 1.5 million.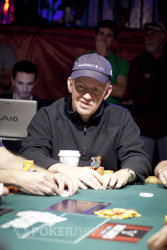 After the grinding play during the last hour, we finally saw some chips in the middle and a flop hit the board. Apparently that's all it took to start the fireworks and we have our first elimination of the official final table.
Leo Whitt opened from middle position, making it 85,000 to go. Charles Cohen, who his been christened "Brooklyn" by his tablemates, made the call from the hijack. Joseph Bolnick called from the button, as did Criag Koch from the big blind, and after three hours of play we finally had our first multiway pot.
Flop:



Koch checked and Whitt pushed all-in for his last 620,000. Cohen instantly announced a call and tossed one chip into the pot to signify his commitment. The other players quickly got out of the way and both players stood for the showdown.
Showdown:
Whitt:



Cohen:


The man known as Brooklyn had flopped a set, but Whitt had a four flush and it was up to the deck to decide the player's fates.
Turn:


River:

Cohen screamed "No diamond!" as the dealer burned and turned, and when he saw the black cards arrive he slammed the table in triumph. He built his stack to 2,000,000 chips while Whitt hits the rail in 9th place, good for a payday of $44,202.
Jucător
Fise
Progres

Charles Cohen

2,000,000

1,100,000

Leo Whitt

Eliminat
Nivel 26 : 20,000-40,000, 5,000 ante
In a blind vs blind confrontation, Joseph Bolnick completed from the small and Walter Browne raised from the big for 95,000 total. Browne called.
The flop came



and Bolnick checked. Browne bet 75,000 and Bolnick raised. Browne went all-in and Bolnick snap-called.
Bolnick:



Browne:


The turn and river came


respectively, doubling Bolnick up.
Bolnick is up to 1,700,000 while Browne has slipped to 1,300,000.
Nivel 26 : 20,000-40,000, 5,000 ante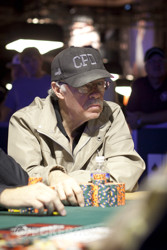 For years, poker was regarded as the pastime of aging cowboys in saloons or retirees playing the game for peanuts. Poker in the year 2011 is now known as a young person's game, with television coverage and internet poker rooms having been dominated by a youth movement since the Moneymaker-boom eight years ago. While the young guns still run roughshod over much of the poker world, the final table of this year's WSOP Seniors Championship has shown that the older generation still loves poker as much as anyone else.
Since starting final table play over two hours ago, a large audience of supporters, friends, family and even curious spectators has gathered to surround the final table area. Passing by the crowd to observe the play, we have overheard many conversations which illustrate just how passionate seniors are about the game of poker.
With nine of the best poker players over 50 years of age competing here tonight for a treasured WSOP bracelet, it is safe to say that poker is still an "old school" game.
Nivel 26 : 20,000-40,000, 5,000 ante
With the seniors sticking to their strategy of playing fundamental, A-B-C poker, we haven't had the pleasure of seeing the flop in three full orbits. The action has become as predictable as clockwork, with the players folding around in unison, followed by a raise from the cutoff or button.
These preflop raises from the traditional "stealing" positions are receiving maximum respect, and while many young guns of poker would test the waters with a three-bet, the word "reraise" is apparently not in this table's vocabulary. With the blinds scheduled to escalate quite rapidly in the next few hours, these seniors may be forced to open their game against their will.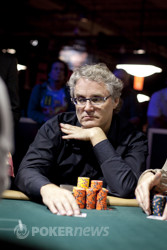 Richard "Dick" Harwood raised to 110,000 in late position and Joseph Bolnick responded by shoving all-in for his last 450,000. Harwood shrugged and announced the call, tabling his

to find he was in a race against Bolnick's

.
The flop fell


and Bolnick's eights had held up so far. The turn came

and he was one card away from a much needed double up.
River:

Bolnick had dodged the deck and his pair of eights were good enough to claim the pot.
Jucător
Fise
Progres

Joseph Bolnick

930,000

270,000

Richard Harwood

900,000

-450,000
Nivel 26 : 20,000-40,000, 5,000 ante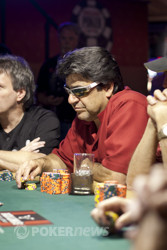 Charles Cohen has raised in three consecutive pots and taken down the blinds and antes without a fight each time. He is up to approximately 900,000.
Nivel 26 : 20,000-40,000, 5,000 ante
Many of the pots as of late have been simply raise-it-and-take-it, which has made for fairly slow action so far. Money seems to be circulating around the table in a clockwise fashion.
On a side note, we noticed that last years champion, Harold Angle, is railing the event - perhaps re-living the excitement he must have felt when he was sitting at the final table.
Nivel: 26
Blinduri: 20,000/40,000
Ante: 5,000