James Jewell Keeps On Jammin'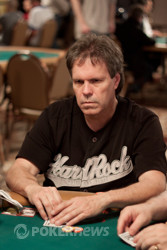 Current chip leader Craig Koch opened for 150,000 and James Hess made the call holding the button. James Jewell also came along from the big blind and we went to the flop three-handed.
Flop:


Jewell tapped the table for a check and Koch slid bet of 250,000 toward the pot. Hess quickly mucked his hand but Jewell slowly pushed his last 800,000 forward for an all-in. Koch appeared discouraged by this development and peeked back at his hole cards once or twice before tossing them to the dealer.
Jucător
Fise
Progres

James Jewell

2,050,000

550,000

Craig Koch

1,900,000

-400,000