Pham Tanks With Aces, Karma (And Orson Young) Catch Up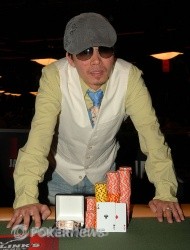 Hoai Pham, last year's Casino Employees event champion, raised to 17,000 from middle position and watched Orson Young shove all-in for his last 93,500. The bracelet winner, who reminded us that he is "a champion" after catching quads earlier in Day 2, then went into the tank.
Pham appeared to be deliberating over a tough decision and he asked the dealer to count out Young's bet. Upon hearing the exact figure, Pham finally made the call and tabled his hand:


. After the lengthy delay in calling, the rest of the table was shocked to see that Pham was holding a monster all along. Young made no commentary on Pham's unusual play and simply turned over his


, waiting for the dealer to do him justice.
Flop:



When the queen appeared right on the flop, Young's tablemates shot knowing glances at each other, evidently pleased that Pham's proverbial slowroll had been appropriately punished. After the

and

arrived on the turn and river, Young's retribution was complete and he doubled up to just over 190,000.