Stephen Su Eliminated in 2nd Place ($130,075)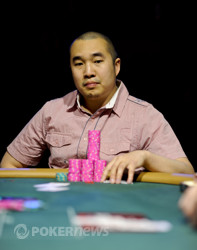 Stephen Su completed and Rep Porter raised. Su called all in and the players turned up their hands.
Su:


/

Porter:


/

Su started with a perfect 3-2-1 but there were still four more cards to come for each and it was far from over until anyone made a five card low.
On fourth, Su hit a

to give him a draw to the wheel while Porter paired up with a

. Su could now lock up the double if he could hit an eight or lower on any of his remaining three cards.
On fifth, Su caught a

to give him a ten-low while Porter got a

that gave him an nine-low draw.
On sixth, Su got a useless
that changed nothing while Porter received a

that changed nothing for him as well.
The boards read as follows going into seventh.
Su:


/



Porter:


/




Porter would have to catch a card that was seven or lower but not a six or a two to pull into the lead. He hit one of those cards with a

to give him a nine-low and now Su would have to sweat his final card. Any card five through nine would keep Su alive and double him up. Su squeeze his final card and unfortunately for him, it was the

which was no good and he was eliminated.