Event #44: $2,500 Seven Card Razz
Zilele: 1
Event #44: $2,500 Seven Card Razz
Ziua 1 terminat
Official Day 1 Chip Counts
Jucător
Fise
Progres

Scott Epstein

48,900

George Lewis

44,300

Tommy Chen

40,900

Christopher George

40,200

Hoyt Corkins

34,700

Michael Wattel

34,500

George Lind

34,000

Benjamin Powell

33,800

Raul Paez

33,600

Chad Brown

33,600

7,600

Brendan Taylor

32,700

Chau Giang

32,400

Orjan Skommo

31,300

Viacheslav Zhukov

31,300

24,000

Calvin Anderson

30,500

11,500

Apostolos Chatzopoulos

29,900

Charles Crouch

29,900

Timothy Finne

29,800

Hasan Habib

28,700

14,700

Jay Kwon

28,400

John Monnette

28,100

100

Justin Smith

28,100

11,600

Daniel Abrams

27,900

Matt Smith

27,900

Daniel Idema

27,700
Nivel 8 : 500/1,000, 100 ante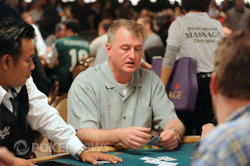 After eight levels of play, Day 1 of Event #44, $2,500 Seven Card Razz is complete and quite an interesting day it was. The start of play was delayed by one hour due to a large amount of entrants into Event #43, $1,500 No-Limit Hold'em that also started today and took over most of the Pavillion room. Our field started with 363 players, a mere two less than last year, and by the end, around 166 remain. The chip leader appears to be George Lewis who bagged 44,300 at day's end.
Besides the chip leader, big stacks include Christopher George (40,200), Hoyt Corkins (34,700), George Lind III (34,000) and Chau Giang (32,400). We don't know if there will be a new champion in this event yet as Frank Kassela, last year's winner, still remains. Other notables that survived the day were Team PokerStars Pros Jason Mercier (USA), Chad Brown (USA) and Victor Ramdin (USA), as well as Tom Dwan, Erik Seidel, John Monnette and poker media member Tim Fiorvanti.
Some players that weren't lucky enough to make it to day two were PokerNews' own Mickey Doft, Team PokerStars Pros Barry Greenstein (USA), Betrand Grospellier (France), Daniel Negreanu (Canada) and Pat Pezzin (Canada), along with Jeff Lisandro, Todd Brunson, David Chiu and David Benyamine.
Due to today's late start, play will only resume at 4 p.m. PST tomorrow and nine levels instead of the regular ten will be played. We hope to see you back then as we anticipate that the players will make the money on their way to the WSOP gold bracelet and the $210,615 that goes with it which you certainly don't want to miss.
Nivel 8 : 500/1,000, 100 ante
With the clock reading 10 minutes, the floor has drawn cards and it has been determined that each table will play five more hands before play is wrapped up for the night.
Nivel 8 : 500/1,000, 100 ante
We joined the pot on fourth street, heads-up.
Jason Somerville: (X)(X) /




/ (X)
Opponent: (X)(X) /




/ (X)
Somerville led the betting on fourth and fifth streets, and his opponent called both street. On sixth, Mr. Opponent took the lead with a bet of his own, and Somerville called with his two pair. On seventh, Somerville faced a dark bet all in, and he called one last time to put his opponent at risk.
Mr. Opponent showed up


for a not-so-good ten-low. Somerville had drawn well on seventh, tabling


for the winning ninety-seven. With the elimination of his opponent, Somerville moves up to about 13,500.
Nivel 8 : 500/1,000, 100 ante
We were checking out Tom Dwan's table when we heard a commotion going on over at table 135 which was several tables away that even caused Dwan's head to turn so we went to go check it out. When we got there, Chris Amaral filled us in on the details of what was a prop bet which has been a common occurrence that we've seen at several tables today.
If we understood Amaral correctly, the players in the first four seats were betting on their up-card. Whoever has the high card of the four has to pay each of the other three $20. If that high card is a ten or a nine however, the price is $40 and if it is eight or lower, it's $60. Still following?
Every 20 hands though, there is some sort of jackpot hand where the stakes are increased or multiplied. And this was the case when we heard all of the yelling happening. We believe that one of the players lost with a seven which caused him to lose a sizeable amount. It seemed like everyone was enjoying themselves and having a good time though so we'll let them continue at it.
Nivel 8 : 500/1,000, 100 ante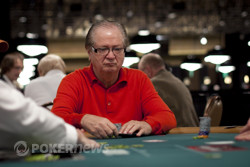 We picked up the action on fifth street, heads-up between Billy Baxter and a player we don't recognize.
Baxter: (X)(X) /




/ (X)
Opponent: (X)(X) /




/ (X)
Mr. Opponent put bets in on fifth and sixth street while we were standing there, with Baxter calling both times. On seventh, the bet came again, but Baxter raised it to two bets. Not to be outdone, his opponent raised it back, and Baxter made the crying call.
The other player revealed


for the wheel, and Baxter flashed

as he tucked and mucked his way down to 16,500 or so.
Nivel: 8
Limite: 500/1,000
Ante: 100
Jucător
Fise
Progres

Jimmy Fricke

39,400

8,400

29,500

600

John Monnette

28,000

6,400

Shawn Buchanan

23,000

4,000

Frank Kassela

23,000

7,000

Erik Seidel

19,000

3,000

Chau Giang

18,500

6,000

18,000

7,500

Bryan Micon

17,000

5,000

Jason Mercier

17,000

3,500

Michael Binger

17,000

13,000

Cyndy Violette

16,300

1,300

David Sklansky

15,300

-700

Berry Johnston

14,700

1,700

Jerry Buss

14,100

2,600

Julie Schneider

14,000

-5,500

Shawn Sheikhan

13,000

-4,000

Jean Gaspard

5,100

-6,400

Darus Suharto

2,200

-6,200
Jucător
Fise
Progres

Chad Brown

26,000

11,000

Victor Ramdin

21,000

14,800

Hoyt Corkins

21,000

8,000

20,000

-5,000

John Cernuto

19,000

500

Scott Bohlman

19,000

David Benyamine

19,000

7,000

Alexander Kostritsyn

18,800

-1,200

Robert Williamson III

18,300

7,300

Max Stern

17,000

2,000

16,700

Justin Smith

16,500

1,300

Lacey Jones

14,500

-1,500

Daniel Alaei

14,500

4,000

Hasan Habib

14,000

3,400

13,800

3,600

Perry Friedman

13,000

4,300

Phil Laak

12,000

600

12,000

4,000

12,000

-3,000

11,000

Brandon Cantu

11,000

1,000

11,000

1,500

10,300

3,800

10,000

-800