Event #46: $10,000 No-Limit Hold'em / Six Handed Championship
Zilele: 1
Jucător
Fise
Progres

McLean Karr

170,000

71,500

Ryan Fair

120,000

57,000

Mohsin Charania

110,000

Tristan Wade

105,000

71,000

Phil Laak

84,000

9,000

Jim Collopy

67,000

34,000

Brendon Rubie

33,000

-37,000

Carlos Mortensen

Eliminat
An unknown player got all in preflop for his last 6,100 and was up against Bertrand "ElkY" Grosspellier.
ElkY:



Opponent:

Grospellier was ahead and cemented his lead when the flop fell



. The

turn assured Grospellier the pot, and as soon as the

was put out on the river, he raked in the pot.

Nivel 10 : 500/1,000, 100 ante
Well, we described Chris Oliver as "nursing" his above average stack. But it appears his nursing wasn't so effective, as the stack has suffered some trauma. What we're trying to say is, the chips are all gone and Oliver's seat is empty.
Ben "Benba" Lamb, Oliver's vanquisher, filled us in on the details of his rapid demise. After Lamb opened for 2,300, Oliver reraised to 5,300, and Lamb called. The flop came


and Lamb checked. Oliver bet 6,400, and Lamb called. The turn was an
and Lamb checked again. Oliver bet 13,000 this time, and Lamb called once more.
The river was another
and Lamb checked one last time. Oliver shoved all in for about 50,000, and Lamb called, showing

for aces and kings. Oliver mucked, and tossed his headphones before exiting. Seemed less enjoyable than the money tossing he was describing just before.
Taylor Paur raised to 2,300 under the gun and was called by both Noah Schwartz and Alan Sternberg. When the flop fell



, Paur led out for 5,000 and again both his opponents just called. The

turn didn't slow Paur down as he bet 12,700. That bet was enough to get Schwartz off the hand, but not Sternberg as he made the call.
Paur continued his aggression on the

river by betting 30,000. Sternberg refused to back down and made the call. Paur rolled over


for a bluff, while Sternberg showed the winning


straight.
Action folded to Taylor Paur in the small blind and he raised to 3,000. Jason Lester was in the big blind and opted to make the call. Paur immediately bet 4,000 on the


flop only to have Lester raise to 16,000. Paur responded by moving all in and Lester called off for around 37,000.
Paur:



Lester:


Lester had flopped top pair but it was well behind the over pair of Paur. The

turn left Lester drawing to either a nine or ten on the river, but it was not meant to be as the

peeled off. Lester was eliminated from the tournament while Paur climbed back to around 200,000.

Nivel 10 : 500/1,000, 100 ante
The tournament clock has been stopped and it has been determined that four more hands will be played before play concludes tonight.

Nivel 10 : 500/1,000, 100 ante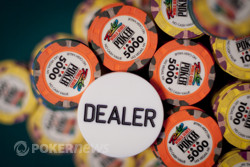 When we arrived for today's Day 1 of Event No. 46, the $10,000 No-Limit Hold'em Six-Handed event, we expected to see a stacked field of top pros, including many of the online phenoms for whom the short-handed game is their bread and butter. On that count our expectations were fulfilled.
Looking back at Event No. 40 (the $5K version of this event) and its turnout of 732, we thought perhaps we'd see a field of half that or even a little less, given the double-sized buy-in. There we found our expectations to be off, as a surprising 474 runners bought in for this one, together creating a huge prize pool of $4,455,600 to be distributed among the top 48 finishers. That also means a $1.15 million-plus payday for the winner, the largest first prize thus far at this year's WSOP.
Just 162 of those 474 made it through to tomorrow's Day 2, which meant we saw many of those notables hitting the rail along the way. Meanwhile, Joe Cada catapulted to the top of the counts by mid-afternoon, soon to be challenged by David "Bakes" Baker, James Akenhead, McLean Karr, and Dmitry Gromov.
By night's end a few players had pushed up past the 200,000-chip mark to land at the top of the leaderboard by the time the end-of-night bagging of chips commenced, among them Mike Sowers, Ben Lamb, and Kevin Saul. But ahead of them all is Alan Sternberg with 260,600 to end the night.
Play resumes at 2:30 p.m. tomorrow local time for Day 2. What do we expect? More three- and four-bets. More action. And more drama as they reach the money and push toward that final table full of six-figure scores. See you then.
Jucător
Fise
Progres

Alan Sternberg

260,600

Kevin Saul

242,600

Ben Lamb

223,000

Joe Cada

208,800

Mike Sowers

203,900

Jake Cody

198,900

McLean Karr

196,800

Farzad Bonyadi

190,800

101,800

Jamie Armstrong

190,000

Taylor Paur

185,600

Nick Grippo

185,600

David Benefield

174,700

4,700

Thorsten Schafer

170,300

Andrew Chen

168,700

Robbie Verspui

164,800

Tom Marchese

164,100

Dmitry Gromov

161,900

1,900

Isaac Baron

161,700

Dwyte Pilgrim

160,500

72,500

Fabrice Soulier

159,600

Markus Gonsalves

157,800

Gabe Patgorski

149,000

Jim Collopy

145,900

78,900

Ivan Freitez

144,300

Russell Carson

144,000

39,000
Event #46: $10,000 No-Limit Hold'em / Six Handed Championship
Ziua 1 terminat