Event #46: $10,000 No-Limit Hold'em / Six Handed Championship
Zilele: 3
Event #46: $10,000 No-Limit Hold'em / Six Handed Championship
Ziua 3 început
| Table | Seat | Player | Chips |
| --- | --- | --- | --- |
| 276 | 1 | Jeremy Menard | 537,000 |
| 276 | 2 | Bertrand Grospellier | 1,409,000 |
| 276 | 3 | Mike Sowers | 1,468,000 |
| 276 | 4 | Lee Markholt | 368,000 |
| 276 | 5 | Nick Grippo | 886,000 |
| 276 | 6 | Matthew Hyman | 559,000 |
| | | | |
| 282 | 1 | Ben Tollerene | 454,000 |
| 282 | 2 | Chris Moorman | 1,458,000 |
| 282 | 3 | Tyler Smith | 184,000 |
| 282 | 4 | Taylor Paur | 1,005,000 |
| 282 | 5 | --empty-- | -- |
| 282 | 6 | David Benefield | 622,000 |
| | | | |
| 288 | 1 | Tristan Wade | 269,000 |
| 288 | 2 | Joe Ebanks | 893,000 |
| 288 | 3 | Ben Lamb | 501,000 |
| 288 | 4 | Russell Carson | 129,000 |
| 288 | 5 | Greg Dyer | 709,000 |
| 288 | 6 | Thorsten Schafer | 411,000 |
| | | | |
| 294 | 1 | William Thorson | 674,000 |
| 294 | 2 | Chris DeMaci | 639,000 |
| 294 | 3 | --empty-- | -- |
| 294 | 4 | Daniel Reijmer | 437,000 |
| 294 | 5 | Chris Klodnicki | 273,000 |
| 294 | 6 | John Patgorski | 269,000 |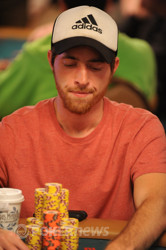 Welcome to the third and final (hopefully) day of Event No. 46, the $10,000 No-Limit Hold'em Six-Handed. Today, the final 22 players of a 474-player field will return to battle their way to the final table in the hopes of capturing the $1.15 million first-place prize. Leading the way is none other than Mike Sowers, who bagged up 1,468,000 in chips at the end of Day 2.
Joining Sowers is a laundry list of notables including Chris Moorman (1,458,000), Bertrand "ElkY" Grospellier (1,409,000), David Benefield (622,000), Lee Markholt (368,000), and Ben Lamb (501,000).
Headed into Day 3, there are two major storylines to keep an eye on. First and foremost, Lamb is fresh off a victory in Event #42 $10,000 Pot-Limit Omaha Championship where he captured his first WSOP gold bracelet and the accompanying $814,436 first-place prize. Combine that with his second-place finish in Event #31 Pot-Limit Omaha, for which he earned $259,918, and he currently current sits atop the WSOP Player-of-the-Year Race. Not including this event, Lamb has 486.25 points, which is more than 60 points ahead of his nearest competitor.
Like Lamb, Grospellier is seeking his second bracelet of the summer after emerging victorious in Event #21 Seven Card Stud Championship to win the $331,639 prize. Grospellier currently sits in 18th on the POY Leaderboard with 299.25 points, a total he is guaranteed to add to no matter where he finishes in this event. Capturing two bracelets in the same year is rare, let alone in two Championship Events. Both Lamb and Grospellier have the opportunity to accomplish that here in Event #46. If either is able to do so, it'll no doubt go a long way in helping them compete for the coveted POY title.
The plan for the day is to either play ten levels or down to a winner, whichever may come first. Given the structure and the players' willingness to mix it up, we're predicting it will be the latter.
Play resumes at 2:30 P.M. PST, which is about a half an hour from right now. The PokerNews Live Reporting Team will be brining you all the action, chip counts, and eliminations from the $10,000 No-Limit Hold'em Six-Handed Championship, so join us then!
Nivel: 21
Blinduri: 6,000/12,000
Ante: 2,000
Over on Table 282, David Benefield opened to 27,000, Ben Tollerene three-bet to 65,000 from the blinds, and Benefield four-bet to 135,000. Tollerene five-bet shoved for 454,000, Benefield called, and the hands were turned up.
Benefield:



Tollerene:


The board ran





, and Tollerene's jacks held.
At the very same time there was a double up on Table 288. Russell Carson open-shoved for 127,000 and found a call from Greg Dyer. Carson's


was racing against Dyer's


, and Carson held when the board ran




.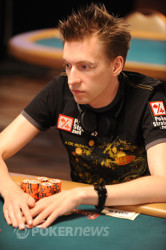 Ben Lamb raised to 30,000 under the gun and was met with an all-in reraise of 254,000 by Russell Carson. Action really picked up when Thorsten Schafer, who was on the button, moved all in over the top for 484,000. As if that wasn't enough, Joe Ebanks quickly called from the big blind. Lamb seemed shocked by the turn of events and wisely decided to get out of the ways.
Ebanks:



Schafer:



Carson:

Both Carson and Schafer knew they were in big trouble, especially considering they were sharing cards. After the flop came down



, the two at-risk players stood from the table and prepared to make their exit. The

fell harmlessly on the turn, followed by the

on the river.
Carson, who started the hand with the smallest stack, was eliminated in 22nd place; meanwhile, Schafer was sent packing in 21st place.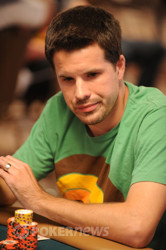 Jeremy Menard had the button and opened to 26,000 when it folded to him. Mike Sowers three-bet to 52,000 from the big blind, Menard four-bet to 126,000, and Sowers called.
The flop fell down



, Sowers checked, and Menard slid out 170,000. Sowers swiftly grabbed a large stack of green T25,000 chips and dropped them in front of him.
"Would that put me all in?" Menard asked the dealer, who nodded, "yes."
Menard called all in for 395,000, and the hands were flipped.
Menard:



Sowers:


Menard was in great shape, and secured the double when the turn and river came

,

respectively.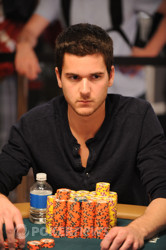 Taylor Paur opened for 26,000 from the cutoff and was met with an all-in three-bet to 316,000 by David Benefield on the button. The small blind got out of the way, but Chris Moorman surprised everyone by moving all in from the big.
"Whoops," Benefield said after Paur had folded.
Benefield:



Moorman:


While Benefield had picked a bad spot, it seemed his ill timing might pay off when the

flop delivered him a flush draw and gut-shot straight draw. Benefield allowed a smile to creep across his face as he had picked up a decent sweat. With two chances at it, the dealer burned and turned the

. A blank if there ever was one.
Down to his last chance, Benefield leaned in close as the

was put out on the river. Benefield bricked and was subsequently eliminated in 20th place; meanwhile, Moorman vaulted into the chip lead.
Gabe Patgorski was all in and at risk preflop against William Thorson. It was a race between Patgorski's

and Thorson's


, and Patgorski outpaced Thorson when the board ran




.
Patgorski doubled to 498,000, while Thorson slipped to 385,000.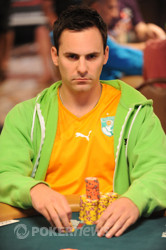 Action folded around to a short-stacked Chris Klodnicki on the button and he shoved for his last 140,000. Gabe Patgorski responded by moving all in from the small blind, which ended up isolating Klodnicki.
Patgorski:


Klodnicki:


They weren't the best of hands, but Patgorski was ahead. The



flop paired Klodnicki and gave him some hope; however, ti was quickly dashed when the

spiked on the turn and gave Patgorski the nut straight. Klodnicki was drawing dead and eliminated in 19th place.