"You Robbed Me, Baby?"

Nivel 13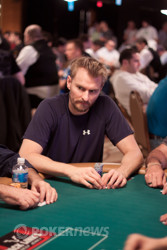 Omaha 8
Scotty Nguyen was a minute or so late coming back from the dinner break, arriving back at his table just in time to see Michael Binger open-raise from the button, forcing a fold from Matt Savage in the small blind. Nguyen's hand had already been folded before he sat down, and so he saw his big blind being shipped over to Binger.
"You robbed me, baby?" said Nguyen with a grin. "Oh, you've been blinding down for an hour," said Dan Heimiller. "There was no dinner break." All laughed as the next hand was dealt.
This time Binger raised again from the cutoff, and Savage called from the button. Nguyen then made it two bets from the small blind, forcing out the BB. Binger and Savage both called, and the flop came



. Nguyen bet, and his two opponents both called. All three then checked the

turn and

river.
Nguyen hesitated, watching Savage show




and Binger



. With no low, Binger's jacks gave him the best high as Nguyen mucked.
"Jack-jack," said Nguyen. "You robbed me again, baby!"
Binger has about 41,000 with which to try to perpetrate more thefts going forward. Nguyen has about 27,000, and Savage 18,000.