Quintuple-Up for Lisandro

Nivel 14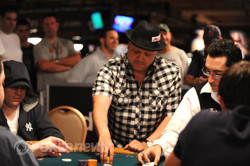 Razz
Okay, razz fans. Five-way action here, details below. Cliffs? Jeffrey Lisandro quintuples up! (No shinola.)
The hand involved Lisandro, Shaun Deeb, Jason Lester, Steve Billirakis, and David "ODB" Baker. The action particularly heated up on fourth street, when Deeb bet, Lisandro raised, Lester and Billirakis called the two bets, Baker made it three, Deeb made it four, Lisandro called with his remaining chips, and the other three all called.
Got that?
On fifth Deeb bet again, and Lester, Billirakis, and Baker all called. On sixth Deeb kept at it, and only Baker decided to stick around. Deeb and Baker then both checked seventh. The hands…
Deeb (X)(X) /




/ (X)
Lisandro (X)(X) /




/ (X)
Lester (X)(X) /




- FOLDED
Billirakis (X)(X) /



- FOLDED
Baker (X)(X) /



/ (X)
Deeb showed



for a 9-8, Lisandro


for a 7-5, and Baker mucked. "Yes! Yes!" said the normally reserved Lisandro, noting that nifty return on his investment for the hand. He took the big main pot, and suddenly sits with about 305,000. Deeb, meanwhile, took the side pot, and has about 900,000 as we approach the last break of the night.