Razz Pot to Hellmuth

Nivel 18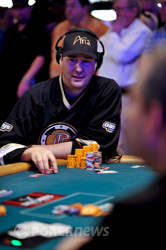 Razz
The rail is getting deeper, the atmosphere more intense, as play continues at our final two tables.
Jeffrey Lisandro: (X)(X) /



/ (X)
Phil Hellmuth: (X)(X) /




/ (X)
Lisandro took the lead in this razz hand with a raise on third which Hellmuth called. Hellmuth then called Lisandro's bets on fourth and fifth, before both players slowed down, checking both sixth and seventh.
Hellmuth tabled


to make a 7-4-3-2-A, and Lisandro mucked. Hellmuth has 615,000 now, while Lisandro has 970,000.