Event Info
| | |
| --- | --- |
| Buy-in | $1,500 |
| Fond de premiere | $4,575,150 |
| Players | 3,389 |
Informaţii Nivel
| | |
| --- | --- |
| Nivel | 32 |
| Blinduri | 80,000 / 160,000 |
| Ante | 20,000 |
Event #56: $1,500 No-Limit Hold'em
Ziua 4 terminat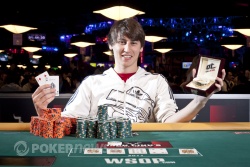 We played an unscheduled Day 4 today due to another massive field of 3,389 players that entered Event #56. With such a large prizepool and so much money at stake, it was well worth it to Hasan Anter who not only came out victorious, but did it in rare and stylish form.
We began Day 3 with 42 players but eliminated all but three competitors. Gavin Smith (12th), Bryan Paris (11th) and Bryn Kenney (10th) all finished just outside the official final table. James Boyle and Ryan Goindoo exited the final table first as both of them failed to win a race to save their tournament life. Then it was Anter run good time. His


eliminated Rayan Nathan, just before he cracked the


of John Horvatich with


all in preflop. Just after John Borzio was eliminated, Anter busted Selim Oulmekki when his


held against Oulmekki's


on a

board to end the night.
Hasan Anter had over half the chips in the tournament at the beginning of play today and his heater picked right back up where it left off. He was able to make fours full of eights on the river to cripple Andy Philachack and immediately grabbed the momentum. It was just a few hands later that Philachack's


didn't hold up against the


of Nemer Haddad. This set up a fantastic heads up battle between Haddad and Anter.
Anter began the match with approximately a three to one chip lead and despite winning the first major pot of heads up play found himself almost dead even in chips after just a dozen or so hands. Luckily, he was able to take charge again to take a strong lead before doubling Haddad up when his

couldn't get there agains the


of Haddad. However, Anter's relentless aggression heads up eventually paid huge divideds. It wasn't long before he retook the chip lead by forcing Haddad off a hand by moving all in on a





board. A few hands later, he took back full control when he forced Haddad off another large pot.
This caused Haddad to get short enough that he had to three-bet shove with

. While essentially flipping against the


of Anter, he found himself in a lot of trouble on the



flop. The

turn ended things and officially gave the 56th gold bracelet awarded at the 2011 World Series of Poker to Hasan Anter. However, the magic of Anter wasn't over. The dealer put down the meaningless river which almost went unnoticed... it was the

giving Anter a royal flush!
To our knowledge, no other bracelet winner has taken down the tournament with a royal flush which is why we offer extra congratulations to Hasan Anter, winner of $777,928 and his very first gold bracelet!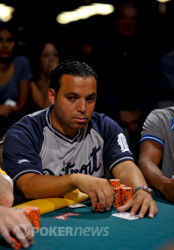 Hasan Anter raised on the button to 500,000 before Nemer Haddad reraised all in for 3.2 million. After some thought, Anter made the call and Haddad's tournament life was officially at risk.
Anter:



Haddad:

The flop came



which gave Anter a flush draw. The turn wasted no time getting Anter there when it was the

. While that would officially be the card that gave him the bracelet, the river

gave him a Royal Flush which just put the icing on the cake.
Haddad fought through a difficult final table and a swingy heads up battle but ultimately finished one spot short of the bracelet. He will take home $470,521 as a conciliation prize, still more than 300 times his initial investment!
Hasan Anter raised to 400,000 on the button and Nemer Haddad defended.
The flop came



and Haddad checked. Anter bet 500,000 and Haddad called.
The turn was the

and again Haddad check-called, this time for 800,000.
The river was the

and Haddad checked for a third time. Anter quietly announced he was all in and Hassad hit the tank. He double checked his cards, thought for a couple of minutes and then angrily mucked his cards.
On the button, Hasan Anter raised to 500,000 and Nemer Haddad called.
The flop came down



and Haddad check-called a bet worth 650,000. The turn was the

and both players checked.
The river was the

and this time Haddad led for 1,650,000 before Anter moved all in. Haddad immediately asked for a count and stood up over the table to study his opponent and his chips for a couple of minutes. The dealer and tournament director both counted to the chips to be sure and determined that it was an additional 3,580,000 for Haddad to call. Eventually, he folded and allowed Anter to retake the chip lead.
| | | | | | |
| --- | --- | --- | --- | --- | --- |
| Hasan Anter | | | | 9,220,000 | 3,020,000 |
| Nemer Haddad | | | | 6,030,000 | -3,070,000 |
Nemer Haddad limped his button again before Hasan Anter raised to 560,000. Haddad moved all in and Anter began his tank. After a couple of minutes he decided to make the call and the hands were turned face up.
Haddad:



Anter:

The flop came



and Haddad remained in front. The turn was the

which gave Anter a flush draw and some extra outs to chop the pot with a straight. However, the river not only blanked with the
, but it gave Haddad a set.
Haddad now takes the chip lead with 9,100,000 to Anter's 6,200,000.
Nivel:

32
Blinduri:

80,000/160,000
Ante:

20,000
Hasan Anter raised to 300,000 from the button and Nemer Haddad defended his big blind.
The flop was



and Haddad checked. Anter bet 400,000 before Haddad moved all in. Anter slouched back in his chair and seemed torn. After a little bit he threw in his cards and Hassad shipped the pot to get back to 4 million.
Nemer Hassad raised to 320,000 from the button and Hasan Anter called.
The flop came



, Anter checked first to act and Hassad continued for 500,000. Anter check-raised to 1.3 million and Hassad let go of his hand.
After that pot, Hassad is down to 3.4 million while Anter has 11.9 million.